Fields Point — Domestic Liquefied Natural Gas (LNG) in New England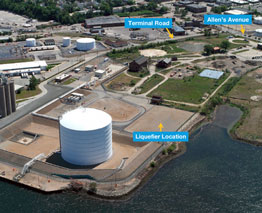 For decades, liquefied natural gas has played an important role in providing a safe, reliable source of natural gas for our customers in New England, particularly in winter months when demand for natural gas is greatest. Liquefied natural gas (LNG) is a critical part of National Grid's ability to provide safe and reliable natural gas to the homes and businesses we serve. On the coldest winter days, when demand is at its peak, LNG can provide up to 40% of the gas supply for National Grid's customers in New England.
Without a local supply of LNG there would not be enough gas to heat customer homes and businesses during these coldest days. Currently, LNG is brought into New England from overseas where unforeseen domestic or international events could make our supply of gas less reliable. This makes it vitally important that National Grid have a domestic source for our New England customers as soon as possible.
National Grid built a natural gas liquefaction facility at a previously existing storage facility at Fields Point in Providence, Rhode Island. This facility will be a reliable, safe, cost-effective way to ensure that our customers have the natural gas they need to heat their homes and businesses, particularly when the demand is greatest.
Investing in Fields Point
The facility at Fields Point is ideal for the Liquefaction Facility for the following reasons:
It is already used for LNG storage, so no additional storage needs to be built at the site.
It has an existing natural gas supply infrastructure that can be used for liquefaction. No new gas pipelines or expansion of the delivery systems to the site is needed.
There is sufficient space within the existing plant to construct the new facility without the need to expand its footprint.
The location provides quick and easy access to major highways.