Purchasing a Generator
Many technical considerations go into finding the right generator for your home or business. We recommend consulting a professional before you buy. A licensed electrician can determine your home's power requirements, address safety concerns, and perform installations for you. Learn more in our Operating Generators for Standby Power brochure.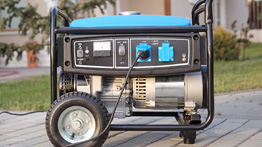 Generator Safety and Maintenance
Annual maintenance is the best way to ensure you will have power when you need it. If you bought a generator several years ago and have not used it since, it may not work in an emergency. Don't wait until a storm hits to find that out. Perform these regular maintenance checks:
If you use a generator to supply power during an outage, be sure to always operate it outdoors.

In addition to keeping these devices outdoors, keep them away from doors, windows and vents that could allow carbon monoxide to come indoors.

Before operating generators, disconnect from National Grid's system by shutting off the main breaker located in the electric service panel. Failure to do this could jeopardize the safety of line crews and the public.

Avoid fire or explosion by refueling the generator in a well-ventilated area, and avoid spilling fuel on hot engine parts.
Change the oil periodically or after several hours of operation.
To prevent clogs, drain the fuel completely or treat it with a fuel stabilizer if the engine is going to be idle for an extended period of time.
Periodically start the generator to make sure that the unit starts easily and that all components are working
Check that your electrical cords are clean, neatly coiled up, and regularly inspected for damaged insulation and connectors.
Store surplus gasoline in approved containers. Keep in mind that a generator that is capable of supplying the electrical needs of a household can consume up to 25 gallons of fuel in a 24-hour period.