It's important to use caution when checking for damage in the aftermath of a storm. Keep the following in mind.
---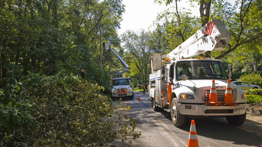 Smell gas? After a disaster, check for the odor of gas before entering any area. If gas is detected, leave immediately and call National Grid from another location.
Don't rush to plug in! Once power is restored, reconnect your appliances one at a time to avoid overloading your circuits.
If in doubt, throw it out. After a prolonged outage, check food in your refrigerator or freezer carefully for freshness.
Refill your pipes. If you drained your plumbing system, refill your pipes only after heat is restored to your home or building. Check your entire system carefully for leaks.
Remove tree limbs and debris. Check with your municipality on how to handle damaged trees and other debris. Although we remove broken utility poles, cleaning tree debris—including limbs cut by National Grid—is the property owner's responsibility. This policy allows our crews to focus on our top priority: restoring power in your neighborhood as quickly and safely as possible.
---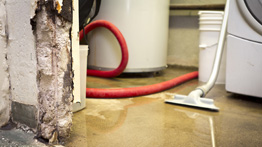 Clear your vents. Check around vents and gas appliances for snow buildup to prevent malfunctions or carbon monoxide poisoning.
Hire a contractor. Seek professional repairs if your home has experienced flooding, and any appliances were submerged, or your gas connections are defective. When choosing a contractor, always get at least three quotes in writing, ask for references, consider workmanship as well as cost, and check with your local Better Business Bureau when possible for any complaints on record against the contractors.