Our employees are engaged with our communities every day, not only through work but also community service.
Power to Serve is National Grid's employee volunteer program, and it supports one of our primary US goals of stewardship and community service. It's the umbrella under which all our volunteer activities, sponsorships and charitable activities fall.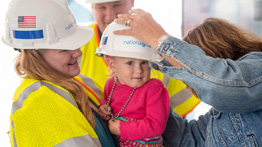 From Earth Day volunteering, to United Way donations, to regular blood drives and departments' ongoing community service days, caring National Grid employees are out there in the communities we serve. We're donating funds to meet community needs ranging from helping the environment, to educating tomorrow's work force … and taking advantage of the company's charitable matching contribution program. Together, we make a real difference.