Our people are our most valuable asset. And the people we hire get to enjoy all the benefits of working at a large, multinational company that's on the cutting edge of innovation—a leader in an industry that's front-and-center in solving some of our world's most critical energy and economic challenges.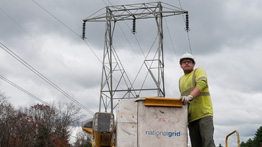 We're proud to offer employees the competitive salary and benefits packages they deserve. In addition to a broad range of medical and dental coverage options, employees can take part in 401(k) plans, tuition reimbursement, pretax accounts for health and dependent care, and much more. They also get to work at a company whose hallmarks include safety, camaraderie, ethical behavior, and respect for others.
But don't take our word for it.
What Our Employees Say
"It's easy to represent National Grid because of its values … safety, ethics, community involvement. I see how my work makes a difference. There's a clear line of sight to the company's goals." Katie – Information Systems
"It's exciting to know you're helping provide a product everyone uses every day— electricity. I get to work on engineering projects start to finish, and different projects each day. Plus there's a nice blend of office time and hands-on field work." Dave – Power Plant Operations
"Everybody has something to offer. The company values its diverse employees, wants to hear their ideas, and that's how I approach people I work with. Everybody's different … that's a good thing!" John – Training
"My bosses care about me, 24/7, saying: 'We want you going home the same way you came'. I'm proud to wear the National Grid uniform – we're here for each other, and here to get the job done safely!" Jermaine – Operations, LNG
"I love working at a big corporation that still feels very connected to its people. There's a 'personal touch' here, especially when everyone's pulling together for a common cause, like battling a storm." Josephine – Human Resources
"I feel like if you're open to it, you can go wherever you want here. I can shape my career how I want it." Abhinav – Operations, Gas Construction