Commercial and Industrial New Construction Services
Our energy saving solutions are better for your clients, and for your business. If you're part of a building design team, or an energy or technical professional working in commercial and industrial (C&I) ground-up construction and major renovations in MA or RI, bring us into the earliest phases of your next project. We'll help identify and implement the right energy programs for maximum savings.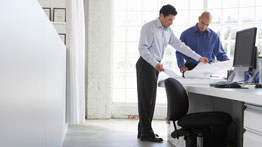 The best time to involve us in a new construction project is during the planning and design process. We'll work with you to develop a holistic plan and identify the best solutions for your client's needs, now and over the long term. With our extensive knowledge of the latest energy saving technology, programs, and offerings, we'll save you the time and money it would have taken to research these solutions on your own. For larger projects, we offer one-on-one concierge services, including on-site consultations.
Saving energy means your clients will be even more satisfied. Beyond lower up-front and long-term costs, high-performance solutions and equipment have been shown to enhance employee productivity; improve safety and reduce worker errors; lessen maintenance-related downtime; and even increase occupancy rates, rents, and property values.
To learn more about our new construction services
for MA and RI, download our Participants' Guide,
call 844-280-4326, or email
newconstruction@nationalgrid.com.