Existing C&I Renovation
Bring better value to your next renovation project with energy saving know-how. We'll give you the tools and energy solutions to grow your business and foster strong client relationships. Plus, our programs help make energy efficient, higher-margin building systems and equipment more affordable for your commercial and industrial (C&I) clients.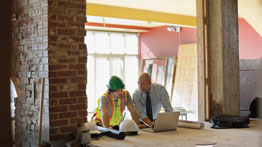 The world of energy is changing fast. If you're a building and construction professional renovating existing commercial, institutional, and industrial buildings and facilities, involve us in your next project. We'll work with you to identify the best energy solutions and high-performance technology to suit your clients' needs. With our extensive knowledge of the latest energy saving technology, programs, and offerings, we'll save you the time and money it would have taken to research these solutions on your own. For larger projects, we also offer concierge energy expertise services.
No matter what the size of your project, high-performance energy solutions will make an impact on your clients' up-front and long-term costs. High-performance solutions and equipment have also been shown to improve facility and employee productivity, enhance ambiance, and lead to higher occupancy rates, rents and property valuations.
To learn more about our retrofit services, call
844-280-4325 or email retrofit@nationalgrid.com.