VSDs and Motor Systems
Take better advantage of potential sales opportunities with our energy efficient solutions for variable speed drives (VSDs) and motor systems. With our tools and programs, you can make these energy saving technologies more affordable for retrofit and new construction projects. That makes you an even stronger partner for your clients.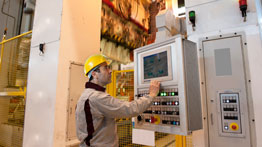 Motors are most efficient when running at their rated, or fully loaded, speed. But most motors are only fully loaded for about 20% of their operating time, which means they waste energy and money. VSDs cut this waste by adjusting motor speed to the needs of the load.
Using VSDs and other motor technologies can result in significant cost savings and reduced maintenance, yet only 10% of 50 hp-plus and over motors in the U.S. are operated using VSDs. Our offerings can make it easier for you to leverage this sales opportunity.
Valuable solutions are available for:
VSDs and new VSD/motor combinations
HVAC/R, water pumping, and industrial process systems
To learn more about our VSD and motor solutions, call 844-280-4325, email retrofit@nationalgrid.com or see more information.