Get valuable business assistance during the pandemic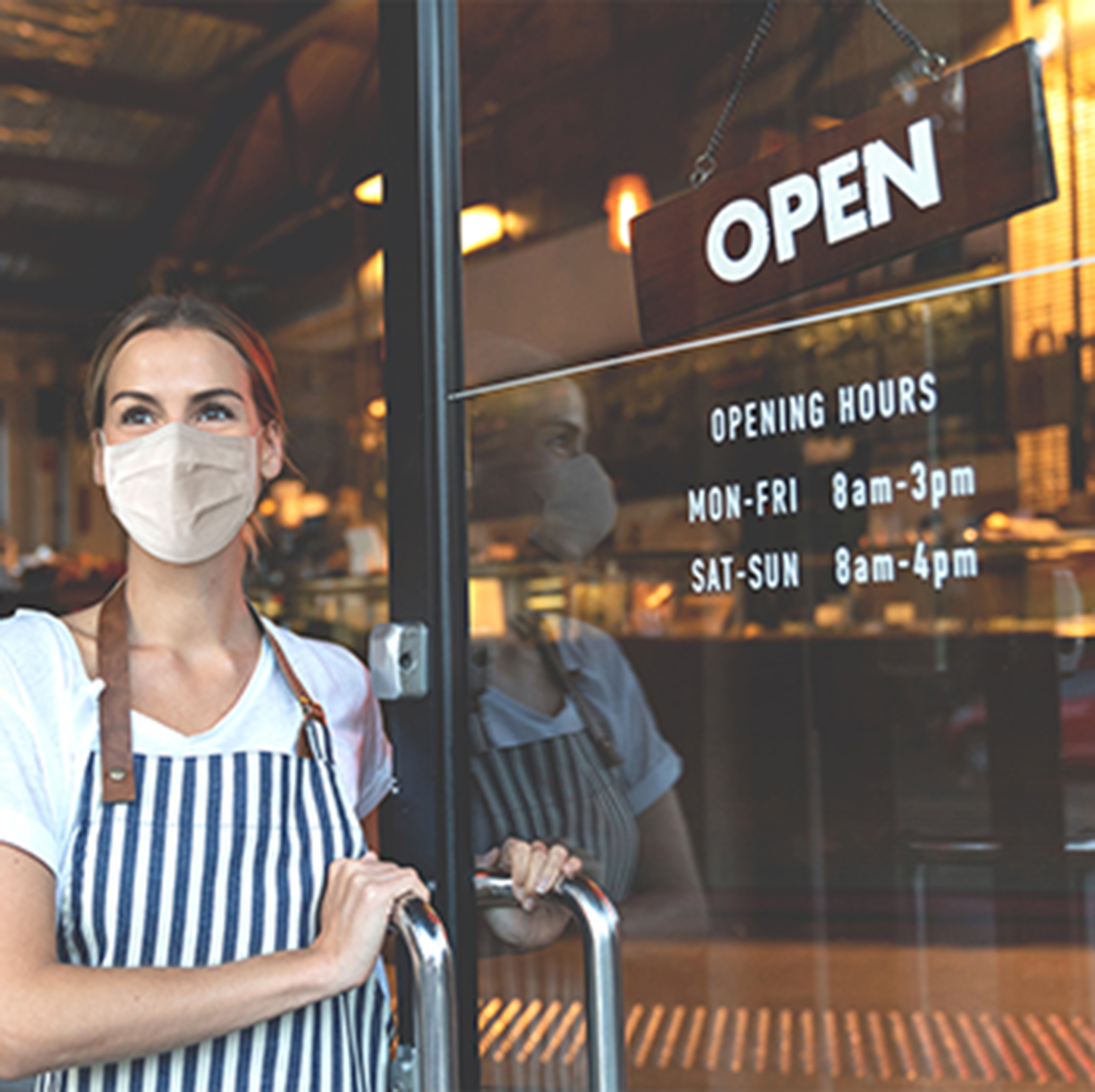 Now Available! Our Small Business Webinar, "Getting the Most Out of Federal and National Grid Assistance Programs"
Webinar Highlights:
Additional free resources available from the National Federation of Independent Business
Tips on how to receive up to $500,000, very low-interest Economic Injury Disaster Loan
Overview of the Restaurant Revitalization Fund, which opened for applications on May 3
How to receive up to $33,000 per employee through the Employee Retention Credit
Sneak Peek of upcoming special programs for Small Businesses
Here you will find information on bill payment options, plus state and local resources where you can learn about additional support.
Get back on track with bill payment assistance for eligible customers
National Grid has a range of bill payment programs available to help you get your business through this pandemic. Enroll online or call 800-322-3223 for electric and 800-870-1664 for gas.


Answers to frequent questions
Are there any billing changes to accommodate businesses hard hit by COVID-19?
Yes. We have bill payment assistance programs to help ease any financial hardship the COVID-19 pandemic may have caused our customers.


Has National Grid resumed collection activities for businesses?
Yes. Disconnection notices for nonpayment resumed on September 2, 2020.


There is no retroactive interest or fees for non-payment during the pandemic, right?
Yes. Retroactive interest, nonpayment fees, and late payment charges will remain on hold until further notice.


Can I cancel my enrollment in the DirectPay or Recurring Payments program?
Yes. Just call customer service. Electric: 1-800-322-3223 or Gas: 1-800-870-1664.


Is National Grid doing anything else to help during the pandemic?
Yes. We have committed $500,000 to support these local aid organizations in Rhode Island, Massachusetts and New York:
United Way Rhode Island Crisis Fund
Rhode Island Good Neighbor Energy Fund
Boston Resiliency Fund
United Way of Central Massachusetts "We Care Fund"
Island Harvest, Long Island
United Way and other organizations in New York where we operate
Access state and local support for your business
We have assembled a list of organizations that are providing help to small- and medium-sized businesses. Opportunities are updated frequently, so check back regularly.


National Resources
Small Business Guidance and Loan Resources
Small businesses are encouraged to join health and government officials who are working to maintain the safety, security, and health of employees, customers, and themselves.


Community Navigator Pilot Program
The Community Navigator Pilot Program will help small businesses in underserved communities with competitive grant awards from $1 million to $5 million for a two-year period. Applicants have until July 12, 2021 to submit their applications at grants.gov.


Federal Small Businesses Disaster Loan Assistance Program
Economic Injury Disaster Loans from the U.S. Small Business Administration are now available for small businesses and nonprofits that have been impacted by COVID-19.


Families First Coronavirus Response Act
Treasury, IRS and Labor departments have implemented COVID-19 related paid leave for workers. Tax credits will enable small and midsize businesses to quickly recover the cost of providing this leave.


Federal Legislative Relief Efforts
Visit the U.S. Department of the Treasury - CARES Act for more information on the Coronavirus Aid, Relief and Economic Security Act.


Small Business Administration
This is a Summary of Coronavirus Relief Options available to small business impacted by COVID-19.


Paycheck Protection Program
This federal program provides direct incentives for small businesses to keep their workers on the payroll.


Economic Injury Disaster Loans and Loan Advance
This is economic relief for businesses that are currently experiencing a temporary loss of revenue.
Note: Accepting new applications on a limited basis only for agricultural businesses.


SBA Express Bridge Loans
These loans enable small businesses who have a relationship with an SBA Express Lender to quickly access up to $25,000.


SBA Debt Relief
This is financial reprieve for small businesses during the pandemic.


Hello Alice COVID-19 Business for All Emergency
This is an immediate grant up to $10,000 if your business has been affected by the pandemic.


The Red Backpack Fund - SPANX
This provides 1,000 U.S. female business owners with $5,000 in immediate funding.


Kiva
These are loans for businesses impacted by COVID-19.


This fund gathers support from corporate, foundation, and individual donors to provide micro-grants to support independent food and beverage businesses.
Note: Applications are currently paused.


Local Resources
RI Department of Health
COVID-19 Homepage
RI Department of Health - Coronavirus Disease 2019 (COVID-19)


RI Department of Labor & Training
Unemployment
Workplace Fact Sheet (pdf)


RI Commerce (information for businesses)
Covid-19 Resources
Your Business Advisor


OSHA Guidance on preparing workplaces for COVID-19 (pdf)
Centers for Disease Control and Prevention
CDC - Guidance
CDC - Businesses & Employers


Rhode Island short term bridge loan
This program is for restaurants and micro businesses with up to 10 employees.


East Providence Economic Development Commission loan
This is a low interest loan program for C&I businesses to finance the acquisition, construction and improvements of land or buildings and for the purchase of capital equipment.


RI Gift it Forward Program
This program makes it easier for Rhode Islanders to support Rhode Island small businesses during the COVID-19 pandemic.


Providence business loan fund
These are secured loans of $50,000 — $500,000 to support small businesses impacted by COVID-19.


Emergency grants and funding
This is immediate relief for RI businesses.


Funding & Resources for Small Business During COVID-19 Crisis
This is a list of COVID-19 funding opportunities and resources for NE businesses.


Workshare
This program enables employees to work reduced hours while collecting unemployment benefits to supplement their lower wages.
Keeping you and our employees healthy
We are following strict procedures to help keep you and our employees safe from COVID-19, and we appreciate your cooperation in helping minimize the spread of the disease.


Answers to frequent questions
Do all employees follow CDC recommendations?
Yes. Our employees are required to strictly follow CDC recommendations intended to protect themselves and our customers from COVID-19.


If service providers need to enter our premises, do you have special procedures?
Yes. When visiting your home or business, our field employees will:
Decline to shake hands
Wear disposable gloves to prevent contact with possible contaminated surfaces.
Ask every person to remain at least 6 feet away at all times.
Ask that anyone on your premises who is or may be ill to remain in a separate room.


Are your field workers taking any other special COVID-19 precautions?
Yes. We have implemented measures that include:
Washing hands and using sanitizer
Avoiding touching mouth, nose and eyes
Keeping a safe distance from anyone self-quarantined or sick
Staying home if they are sick


Do you have special rules in place to help protect other employees?
Yes. These practices support the health of all our employees:
Limit meetings with external visitors
Restrict travel except for critical activities
Stop all international business-related travel
Increase the level of cleaning and disinfecting at all our facilities


Are there any special precautions I should take?
Yes. If you are quarantined or sick when you call for service, please tell us in advance. We have special procedures so we can continue providing essential services even though you may be ill.


Hurricane Safety and COVID-19
It is particularly important to plan during the COVID-19 pandemic for hurricane season, June 1 — November 30. Have plenty of masks available and ensure you're prepared with an evacuation plan that includes ways to maintain physical distancing to protect yourself and others.
These helpful links provide detailed information and special COVID-19 pandemic instructions for keeping yourself safe during a hurricane:
We're providing as much service as we can during COVID-19
Our first priority is providing safe and reliable energy. If you need service, our crews and contractors maintain social distancing and wear protective equipment.


Answers to frequent questions

Is National Grid ready for the impact of the illness and the shortage of materials it can cause to operations?
Yes. We have comprehensive emergency response plans to keep the lights on and the gas flowing.


Will National Grid crews be working in the field during the pandemic?
Yes. It is absolutely critical that we maintain the reliability of our energy infrastructure. We will follow strict health and safety guidelines as we continue projects that are essential to maintaining safe, reliable energy for the region.


Are some services not affected by the pandemic?
Yes. Services that remain unaffected include:
Emergency response for outages, downed power lines and gas leaks. If you smell gas, please leave the area immediately and call us from a safe location.
Regular electricity and gas service will continue, and we do not anticipate any service disruption.
Customer-requested service such as turning on or off gas and electricity when you move and installing or relocating gas and electricity services and meters.
Regular billing and payments will continue, and we encourage you to manage your National Grid accounts online.
Payment assistance is available for customers who are struggling to pay their National Grid bill. Contact us immediately if you need assistance.


Are some services you provide on hold?
Yes. Non-emergency work that requires us to enter your home or business such as service transfers, upgrades, and meter reads, and exchanges will only be performed with your permission or request.


Is National Grid prepared for events like these?
Yes. We plan for events such as storms and other natural disasters; cyber and physical attacks; and "high absenteeism" events like a health emergency or pandemic.
Save money on your cost of energy during the pandemic
National Grid has a range of bill payment programs available to help you get your business through this pandemic. Learn more or call 800-322-3223 for electric and 800-870-1664 for gas.


Answers to frequent questions


Are you able to do virtual energy audits for small businesses?
Yes. We are now using smart phones and digital devices to audit small businesses.


May I now schedule — or reschedule — an on-premise visit?
Yes. Our on-premise program has resumed, and site visits have been rescheduled.


Have you been processing rebate and financing applications?
Yes. We will process rebate and financing applications as we receive them.


Has incentive payments processing for completed projects resumed?
Yes. Incentive payments will be processed for completed projects if the documentation has been submitted electronically.


Have on-premise energy efficiency services restarted?
Yes. On-premise energy efficiency services with our vendor partners has resumed.


I am a contractor - does National Grid have Health and Safety guidance for contractors?
Yes. National Grid has resources for contractors and vendors. Click here to access Environmental Health & Engineering's website for the health & safety guidelines, a recording of a webinar on EH&E's health & safety guidelines as well as other training materials for work involving customer contact. Contractors are requested to train additional field personnel on these guidelines internally using these materials.


Energy efficiency during the pandemic
Using energy wisely is now more important than ever. Our energy efficiency representatives are available to help you plan new projects that are energy smart and better for business. Learn more at Open up to new possibilities.
Tips for reducing energy use during temporary closures:
In vacant zones, shut down systems including compressed air and lighting
In unoccupied buildings minimize HVAC and close blinds and windows
Turn off water heaters or lower them to a minimal temperature
Consolidate and shut down empty refrigeration systems
Unplug devices that may draw power even when they're shut off
The pandemic has given rise to scams. Beware of unsolicited callers claiming to be National Grid who attempt to collect past due balances, offer extraordinary savings on your bill, or threaten to disconnect your service.
Stay connected — register your email

Make sure we can get important information to you fast by registering for an online account.

If you're already registered, sign in to make sure your email is correct