Electric Transportation and Charging Programs
Partner with us to: install Level 2 or direct current fast charging ("DCFC") stations; take advantage of a distribution demand discount for publicly-accessible DCFC stations; or participate in a fleet electrification study.
The Programs
We can help you save money by defraying the cost to install the charging stations, funding 100% of the electrical infrastructure for approved projects and rebates for some charging station equipment installations.

By providing charging stations, you will be positioned at the top of the pack, as a leader committed to both environmental sustainability and your customers, employees and tenants.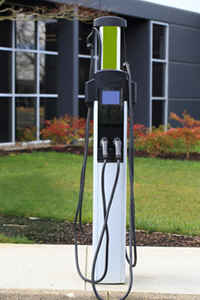 We help you with costs by funding, for approved projects, up to 100 percent of the electrical infrastructure and charging station equipment costs.
We help you select charging station equipment by providing a list of qualified Level 2 and DCFC charging station equipment for you to choose from
We help you distinguish your company as an environmental sustainability leader in your community, with customers, and with your employees and tenants.
We help you support Rhode Island clean air goals.
For more information:
Or contact us with any questions.
Contact us to determine if your publicly-accessible DCFC stations are eligible for a credit set at the same rate as the distribution demand charge. This is a time-limited discount, available on a first come, first served basis.
For more information:
Contact us to discuss this service to support electrification of customer fleets. This offering is limited to a total of approximately 12 fleet operators in Rhode Island, including corporate light-duty, government light/medium/heavy-duty, public transit, and municipal school buses.
For more information:
Now Accepting Proposals for Energy Storage Systems
Are you an Energy Storage System(ESS) developer? National Grid may be interested in either partnering with or purchasing from you. Our goal is to demonstrate the potential use of an ESS system to reduce peak demand impacts associated with electric vehicle DC fast charging stations. The ESS will be rated up to 250kW for 2 hours (500 kWh). Depending on the size of the supported DCFC station, smaller systems will be considered. The supported DCFC station must be publicly accessible. RFP submissions are due by April 19. If interested, contact us for more information.
Now accepting proposals from vendors experienced with charging station assessments and installations.
Experienced vendors should submit information on three to five charging station projects including references. Or contact us for more information.