Downed Power Lines
Always use extreme caution near wires and power lines—for your own safety, assume they are live and deadly.
If you see a downed line, keep everyone away and report it to us at 1-800-465-1212 immediately. Repairing downed power lines can be dangerous work, so please drive carefully when you spot our repair crews on the road.
If you see a downed power line, NEVER:
Touch downed power lines or anything coming in contact with fallen lines
Walk beneath overhead equipment, lines, or wires near a downed line
Touch someone who is being electrically shocked
Handle or cut utility poles
Burn old poles as firewood—this will expose you to the chemicals used to treat and preserve them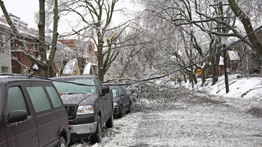 Working near power lines
Electrical contact is a leading cause of injury and death in the U.S. construction industry. When working outdoors, ensure the safety of your crew by keeping ladders and other equipment at least 10 feet away from power lines. Learn more about working near power lines in our Stay Clear and Alive brochure.
We also provide a free kit to share with your employees which contains a contractor electrical awareness video and 25 copies of our Electrical Safety for Contractors and Homeowners brochure. Sign up here to receive a kit.