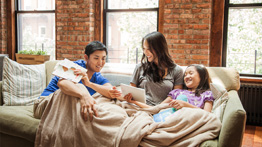 Drafty rooms, noisy appliances, groaning boilers—ever wonder if your home is trying to tell you something? Maybe it's time to find out with a no-cost home energy assessment. Your National Grid Energy Specialist will come to your home, complete an attic-to-basement evaluation, and provide a custom home energy report outlining recommended energy efficiency improvements. Please call 1-888-633-7947 to schedule an assessment of your 1 to 4 unit home.
We'll even install a few no-cost energy saving products for you, on the spot. These may include:
7-day programmable thermostats
ENERGY STAR® certified LED light bulbs
Faucet aerators and low-flow showerheads
Advanced power strips
Based on your assessment, you may be eligible for:
Up to $4,000 toward the installation of approved insulation and targeted air sealing of leaks in drafty areas of your home
Rebates for replacing old appliances
Rebates for upgrading your heating, cooling, and water heating systems
Customers in 1-4 family homes are eligible to apply for a 0% interest HEAT Loan to finance qualifying energy savings upgrades. Loans are available for $500 - $25,000 over terms of 24 months - 84 months. Your Energy Specialist will provide more details during your home energy assessment.
Ready to get started? Schedule your no-cost home energy assessment by calling 1-888-633-7947.
Recommended insulation and air sealing work is completed by pre-approved contractors. Customers have the option to select a participating contractor or be assigned one through the program.
National Grid's Rhode Island home energy assessment program meets the requirements set forth by Home Performance with ENERGY STAR®, a national program administered by the U.S. Department of Energy in conjunction with the U.S. Environmental Protection Agency. Home Performance with ENERGY STAR is designed to engage consumers in the highest form of home improvement: making homes safe, healthy, and energy efficient. The entire house is evaluated – including its systems and their interactivity – to identify comprehensive energy savings solutions.