Income Eligible Energy Savings Program
Give your home an energy makeover.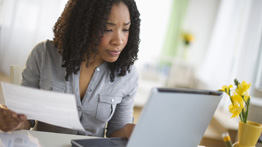 Our Income Eligible Energy Services Program is designed to help you enjoy an energy efficient home that's healthier, more comfortable, and more affordable for you and your family.
The first step is to schedule a no-cost remote home energy assessment where an Energy Specialist will speak to you by phone to complete an attic-to-basement evaluation, identifying areas where your home can save energy. These services are available whether your 1-4 unit home or apartment is heated with oil, natural gas, electricity, wood, coal, or propane.
Your Energy Specialist may mail the following products for you at no cost after completion of your remote assessment:
LED energy saving light bulbs
Water saving faucet aerators
Low-flow showerheads
If you have an old, inefficient dehumidifier and/or window air conditioner, you may be eligible for a new energy saving replacement product. Your Energy Specialist will explain more. You'll be asked to leave the old appliance outside of your residence. We will pick it up and drop off your new dehumidifier and/or window air conditioner, without contact with you or your family.
At a later date, you may also qualify for additional no-cost energy saving improvements. During the COVID-19 pandemic, we are temporarily suspending all energy efficiency service activities that require home visits. Once this restriction is lifted, you may be eligible for:
Replacement of your heating system
Attic and wall insulation, weather stripping, and air sealing of leaks
A replacement refrigerator, freezer, and/or clothes washer if your current appliances are inefficient
To get started, contact our program expert CLEAResult at 1-401-351-1800 or your local Community Action Program (CAP) agency. You will be given a date and time for your upcoming remote assessment over the phone.
If you live in a building with five or more units in which at least half of the residents meet income eligibility requirements, you may be eligible to be served by our multifamily program. Please have your landlord or condo association call 1-888-633-7947 to learn more.
Income Requirement Information
Use the chart below to see if your household meets the income requirement for the Income Eligible Energy Services Program as well as other energy services, such as Fuel Assistance (grants to help pay your heating bills) and discount National Grid rates.
2020 Income Equal to or Less Than
Number of Household Members
12 Months
3 Months
1 Month
1 person
$31,166
$7,792
$2,597
2 people
$40,756
$10,189
$3,396
3 people
$50,345
$12,586
$4,195
4 people
$59,935
$14,984
$4,995
5 people
$69,525
$17,381
$5,794
6 people
$79,114
$19,779
$6,593
7 people
$80,912
$20,228
$6,743
8 people
$82,710
$20,678
$6,893
9 people
$84,508
$21,127
$7,042
10 people
$86,306
$21,577
$7,192
11 people
$88,104
$22,026
$7,342
12 people
$89,903
$22,476
$7,492
If your annual household income is above the requirements, you can still benefit from our Energy Efficiency Programs. Learn about our home energy assessment and insulation program, EnergyWise.
Customer is voluntarily participating in the remote home energy assessment, including replacement of eligible air conditioners and dehumidifiers. To participate, customer is required to move the eligible appliances to a place on customer's premise where the appliance vendor can pick up the appliance without contact with the customer or other persons. Customer is further required to move the replacement appliance(s) from that location to inside the premise without assistance from appliance vendor. It is the customer's sole and exclusive decision whether or not to participate in the remote home energy assessment. By participating, the customer assumes all associated risks and liability, including without limitation, injury to or death of persons, property damage and any COVID-19 risks. National Grid assumes no liability or responsibility and makes no representations, warranties or guarantees in connection with the remote home energy assessment, whether statutory, oral, written, express, or implied, including, without limitation, warranties of merchantability and fitness for a particular purpose. Further, National Grid does not make any representations, warranties, promises or covenants of any kind r egarding energy efficiency measures, energy savings, benefits achieved, adequacy of assessment or equipment, safety or other items or services in connection with the remote home energy audit.