Rhode Island Community Initiative
Our Community Initiative awards up to $20,000 in grants to Rhode Island municipalities for implementing energy efficiency outreach to their residential communities and small businesses.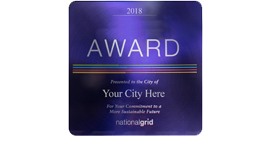 At the start of the program, we work with communities to set goals for residential customers and small businesses. Goals include the number of residential energy assessments and energy efficiency measures implemented as well as small business projects completed in a calendar year. Grants for energy efficiency projects are awarded based on the goals achieved by the end of the year.
Applications
Municipalities in National Grid's service area that use gas, electric, or both, are eligible to apply.

To apply, send an email with a statement of interest to Laura Rodormer. The statement of interest should include the following:
Provide a brief description of your outreach and education plan
Describe how the grant will fund your proposed energy efficiency project
We will follow up to schedule an in-person meeting.
Note: If you are a Rhode Island customer who is looking for a home energy assessment, please call 1-888-633-7947 to schedule an appointment.