Commercial Kitchen Equipment
Enhance the culinary experience and your bottom line.
By replacing or adding energy-efficient equipment, you can improve performance and cut costs 10 to 30 percent.
Why buy energy-efficient cooking equipment?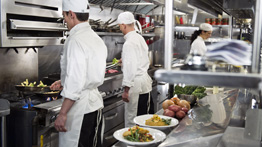 Shorter cook times
Higher production rates
Improved sustainability
Reduced maintenance costs
…all the while reducing your energy costs. Shop for energy efficient commercial kitchen equipment with one of our participating dealers and receive an in-store rebate directly off your invoice through our Instant Rebates Program.
Find a Participating Dealer