Aquidneck Island Long-Term Gas Capacity Study
As Rhode Island's only natural gas local distribution company, National Grid delivers natural gas to approximately 270,000 households and businesses, including approximately 13,800 customers on Aquidneck Island. We are committed to meeting their essential energy needs in a safe, reliable, and affordable manner, especially during the coldest months of winter. And as a clean energy company, we are committed to helping the state address and meet its climate, decarbonization, and emission reduction goals.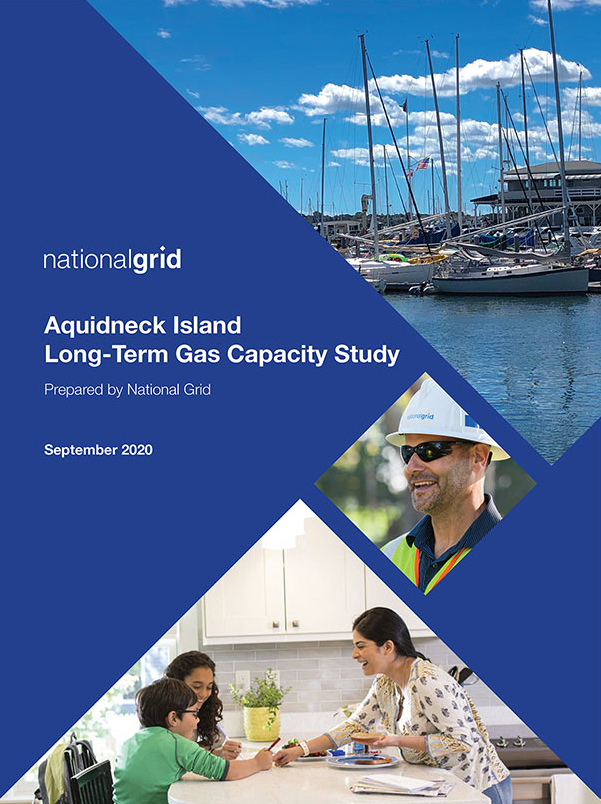 This Aquidneck Island Long-Term Gas Capacity Study outlines the gas supply challenges and constraints facing Aquidneck, along with four potential solution portfolios. All proposed solutions are safe, and for each, we have identified timelines, costs, reliability implications, community impacts, local environmental impacts, and implementation feasibility. All proposed solutions will continue to advance demand side management initiatives (energy efficiency and demand response) that have already started across Aquidneck Island.
Our goal of this study is to help inform more discussions and gather feedback from a variety of stakeholders. In addition to attending a virtual open house in October, customers can also offer their feedback using the link below. Our hope is that we can provide a recommendation by the end of the year on a path forward to pursue a long-term solution or combination of solutions for Aquidneck Island. We look forward to your review and welcome your feedback.