Addressing Long-Term Gas Capacity
As Rhode Island's only natural gas local distribution company, National Grid delivers natural gas to approximately 270,000 households and businesses in the state, including roughly 13,800 customers on Aquidneck Island. We are committed to meeting their essential energy needs in a safe, reliable, and affordable manner, especially during the coldest months of winter. And as a clean energy company, we are committed to helping the state address and meet its climate, decarbonization, and emission reduction goals.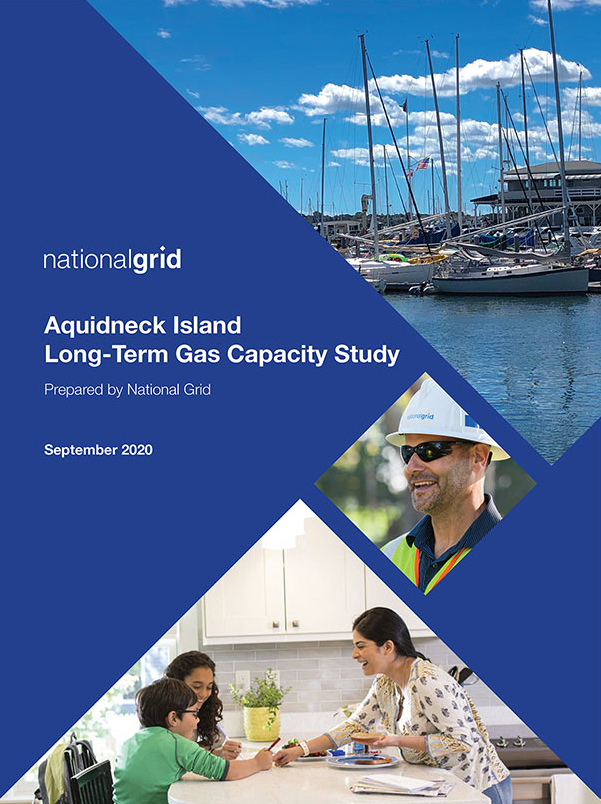 In September 2020, National Grid published it's Aquidneck Island Long-Term Gas Capacity Study outlining the gas supply challenges and constraints facing Aquidneck, along with four potential solution portfolios. Our goal of this study was to help inform more discussions across the communities and gather feedback from a variety of key stakeholders.
Over the past few months we received a substantial amount of feedback from our customers, communities and key stakeholders about their priorities for the energy future of Aquidneck Island and our long-term capacity study. The overwhelming response was encouraging us to develop a path forward that harnesses the momentum for the clean energy future, ensures reliability, and recognizes the importance of affordability to our customers.
As a result, National Grid is embarking on a hybrid approach to help advance a cleaner energy future that can meet those objectives. This includes developing a robust plan to ramp up incremental demand-side programs targeted to Aquidneck Island to drive more participation in energy efficiency, scale up our pilot gas demand response program, and encourage the adoption of electric heat pumps. At the same time, we are further exploring an alternate LNG site that can replace the current temporary portable LNG facility on Old Mill Lane. We are also exploring how a new LNG site could harness the promise of hydrogen as a future clean energy source. This will not ensure a new LNG facility will be built, but we are doing further due diligence.
We are just at the infancy in developing this hybrid track, and hope to provide more details on potential next steps as further engineering is conducted and the review process unfolds. In the meantime, we will continue to make additional enhancements to our current facility on Old Mill Lane to address local concerns. And most importantly, we remain committed to helping the state and Aquidneck meet their clean energy and decarbonization goals.
Summary of Feedback and Approach Moving Forward
Read the Full Report from September 2020