Who We Are and What We Do
New Energy Solutions is an agile team focused on developing and launching
innovative solutions and technologies that unlock value for National Grid's
customers and communities, accelerating progress toward a sustainable future.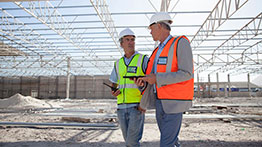 Today's customer is savvy and forward-thinking, and
cares deeply about community and the environment.
We all want the same thing: to keep our communities
healthy and prosperous. Together, we can do it by
working to solve the greatest challenge of our
time–climate change–while delivering smart
innovation and strong economic development.
This makes our next steps as your energy provider straightforward: we need to ensure that
our energy is affordable, cleaner, more efficient, and reliable, with more choices for customers,
both large and small.
This reasoning is how we arrived at Connect21's New Energy Solutions (NES), a team dedicated to building the utility of the future, in our own backyards, in the towns and cities of Massachusetts, New York, and Rhode Island. The team will focus on delivering innovations, technologies, and partnerships that drive cleaner energy; animate the market; and improve efficiency, affordability, and choice for customers.
As New England and New York continue down the complex project routes preparing the
infrastructure of the future, New Energy Solutions will continue to work toward positioning
National Grid as an industry leader in driving change and offering tangible proof of the
efficacy of the Connect21 strategy.