Buffalo Distributed System Platform
We are constantly looking for new solutions for our customers. One way will be connecting customer-owned energy assets to a marketplace for grid services.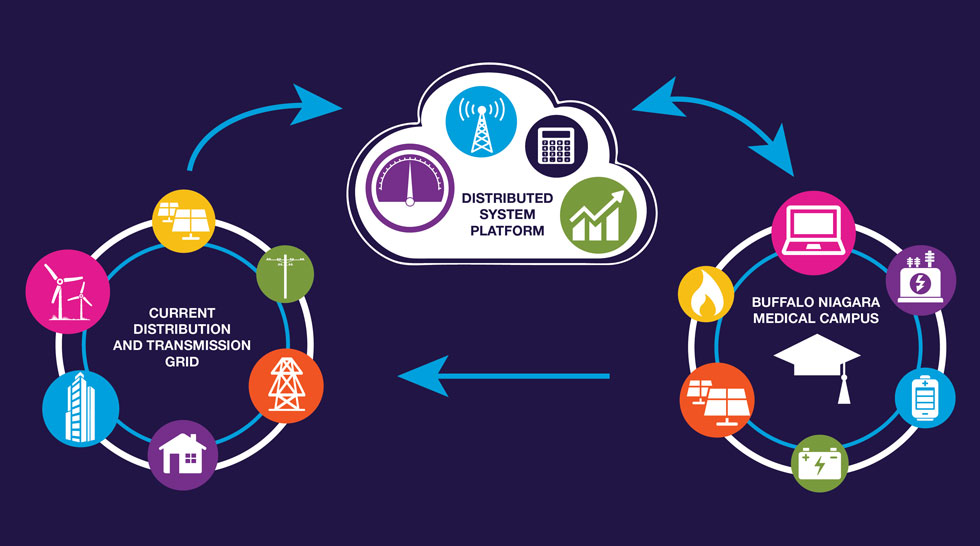 Through Reforming the Energy Vision (REV), New York has been laying the foundation to create a cleaner, more resilient, and more affordable energy system. As part of this transformation, we will see a rise in customer-owned Distributed Energy Resources (DER). DER includes any resources that are connected to the grid at the distribution level (think solar photovoltaics, energy storage, electric vehicles, etc.).
Creating Smarter, Flexible Grids
At National Grid, we are always looking for innovative new ways to harness the vast potential of DER. And one key way is through Distributed System Platforms (DSP). DSP uses connecting technologies to transform the distribution system into a platform that enables greater participation from DER (think two-way power flows).
To get started, we are partnering with Opus One Solutions to pilot a DSP with several buildings owned by the Buffalo Niagara Medical Campus, each with its own set of DER and ability to manage energy use. We would be linking each DER through the DSP to serve the local distribution system.
This pilot aims to develop a platform that can accurately forecast and measure the value of energy at the distribution level. The platform will leverage local customer-owned DER to fulfill system needs, creating the first distribution-level marketplace for energy.
If successful, DSP will provide many benefits to both the utility and DER customers by:
Incentivizing DER investment where the grid needs it the most
Improving the return of investment (ROI) on existing and new DER
Generating new revenue streams through access to the DSP marketplace
We have developed the financial model that will be used to identify the value of energy at different locations across the distributed network considering specific system and feeder constrains. We are currently working with our partners to develop the DSP technology and expect to go live by the end of 2017.