Buffalo Fruit Belt Neighborhood Solar Partnership
We are working with community partners to build sustainable communities through solar power.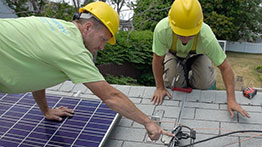 To build a more resilient, cleaner, and more affordable energy system in New York State, we need to help our communities become more sustainable—both environmentally and economically. Here at National Grid, we know that change starts in our communities. We are igniting this change by creating an urban model for renewable energy in Buffalo's Fruit Belt Neighborhood.
In a joint effort between National Grid and the Fruit Belt community known as the Fruit Belt Neighborhood Solar Partnership, we are installing solar photovoltaic (PV) systems on 100 rooftops in the neighborhood. Goals of this partnership are:
Saving money for homeowners through reduced monthly electric bills—monthly savings range between $15 and $20 depending on how much power is generated
Contributing to overall grid efficiency—the power of the systems feeds directly into the local electric grid
Increasing participation in sustainable technology—we are supporting homeowners who are otherwise financially barred from participation
We are installing solar PV systems on qualifying roofs in the community at no cost to the homeowner. The power generated from the systems is shared via a bill credit with the hosting homeowners, as well as a pool of neighborhood account holders who, for various reasons, are unable to host a PV system.
To implement the project, we are working with multiple government, technical, and community partners. These include Solar Liberty, a Buffalo-based solar provider; the Buffalo Niagara Medical Campus; and NYSERDA (the New York State Energy Research and Development Authority). The project was approved by the New York Public Service Commission for New York State's Reforming the Energy Vision (REV4NY), and will be evaluated at its conclusion to determine whether it is both scalable and replicable in other neighborhoods.