Potsdam Microgrid
We are constantly looking for ways to improve the resiliency of our energy infrastructure. One way will be by creating a community underground microgrid in Potsdam, NY.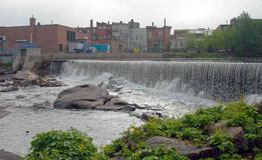 Through Reforming the Energy Vision (REV), New York has been working to improve the State's emergency preparedness and response capabilities during events such as severe storms, blackouts, and cyberattacks. One way of doing this is by improving the resiliency and reliability of the energy infrastructure in the State.
Creating a Resilient, Reliable Grid
To support and drive this vision forward, we are working on a Community Resilience Demonstration Project that will add resiliency to New York's electric grid by developing an underground community microgrid in Potsdam, NY. Severe storms, primarily in the winter, are a regular occurrence in Potsdam, resulting in multiday power outages. These events have often left residents without access to grocery stores, gas stations, and other resources, and local police and fire departments end up operating at reduced capacity.
The underground microgrid will function as an electric island independent of the main power grid during emergencies, enabling the continuity of services in Potsdam. Using diverse electric generation sources, including distributed energy resources (think solar photovoltaics, energy storage, and electric vehicles), the microgrid can maintain and provide electricity for essential community services, such as police, fire, and hospital services, during these storms when the main power grid is out.
Four services will be developed and tested within this project:
Tiered recovery model for storm-hardened underground wires
Centralized procurement for distributed energy resources
Control and operational management system
Billing and financial transaction services
Current Status
To date, we have completed the tiered recovery model. A detailed engineering plan of the microgrid, as well as the control and operational management system, is currently under design.