SolarWise Rhode Island
We are the first in the country to offer customers
this solar-friendly incentive program.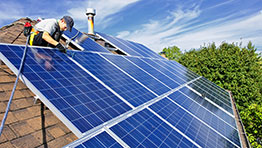 Are you interested in using solar energy to help reduce greenhouse gases and lower energy bills? We are now making it easier for you to adapt to solar technology through SolarWise Rhode Island.
With this pioneering program, customers can comparison-shop solar opportunities for their home or business using EnergySage, the nation's leading online solar marketplace. They will be able to review multiple product options, receive competitive quotes from prescreened installers, and apply for financing. Owners of existing structures and those planning new construction will be eligible to participate. And the program includes bonus incentives for energy reductions.
SolarWise Rhode Island is part of National Grid's 2016 Rhode Island Renewable Energy Growth Program.
Effective October 15th, 2017, customers will no longer be able to submit applications for the SolarWise Incentive Bonuses, as the program has ended. Stay tuned to what will be next!