Solar Awnings
To advance innovation throughout Worcester, we installed a solar awning system at the Sustainability Hub.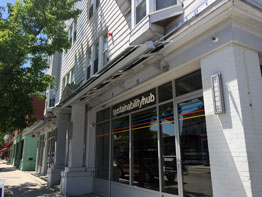 To further advance renewable energy innovations, we installed a 3.8 kW solar awning system (solar panels serving as an awning) at the Worcester Sustainability Hub. The solar awning system was part of an effort to reduce the facility's demand on the electric grid, and to serve as an educational tool for all Hub visitors and community members.
Have questions about the solar awning installation? We have answers. We've compiled some of the most common questions below, but if you have others, don't hesitate to reach out to us.
The awning serves as an example of an innovative solar energy project where roof space is limited. It is also an educational tool that can benefit visitors of the Hub and students in Worcester in terms of renewable energy education.
The power generated by the solar awning system goes directly toward reducing the Sustainability Hub's total energy consumption. Any excess energy that the system produces (beyond what we need) is contributed back to the grid.
Companies involved in the installation:
General contractor: RH White Construction
Electrical engineering: LidCo Electrical Contractors
Structural engineering: McKenzie Engineering Company Inc.
Solar panel installer: Solworks Energy LLC
Inverter and combiner: Yaskawa Solectria Solar
With the semi-transparent photovoltaic panels, visitors are able to see all the parts of a solar panel. Inside the Hub, visitors can see equipment necessary for a photovoltaic system. Visitors can also see real-time generation on the monitor next to the inverter.