Charging EVs
Knowing how to charge your electric vehicle (EV) is one of the most
important aspects of EV ownership. Here is what you need to know,
with links to additional information.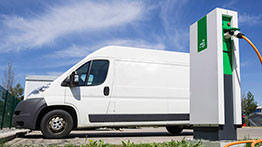 Plug-in electric vehicles draw electricity from external power sources. This electricity is then stored in the vehicle's rechargeable battery. Some vehicles run entirely on this stored energy, while others can run on either electricity or gasoline. (See our FAQ on electric vehicles for more information.)
Level 1 Charging
Level 1 charging uses ordinary household current and a standard 120V outlet, such as an outlet in a garage.
Plug-in EVs can be charged on a standard three-prong outlet and the charging unit that comes with the vehicle.
It takes eight to 20 hours to fully charge a vehicle.
Typically, five miles of range are added per hour.
There are no setup costs.
Most EVs are frequently charged at home.
Level 2 Charging Stations
These stations charge the vehicle faster than Level 1 charging.
Level 2 charging requires a 240 volt circuit (typical residential application) or a 208 volt circuit (typical commercial application).
These charging stations are typically installed at the EV owner's home or in commercial locations (workplaces or publicly accessible stations).
Typically, it takes four to eight hours to charge a vehicle, at a rate of 12 to 20 miles of range per hour.
DC Fast Chargers
This type of charger enables rapid charging along heavy traffic corridors at installed stations. It is much faster—recharging 80% of a battery in as little as 20 minutes. It uses a 480 volt circuit and can be used only by certain vehicles on the market.
National Grid owns and manages 150+ publicly accessible stations in the three states where we serve our customers—Massachusetts, Rhode Island, and New York. We are currently planning a demonstration of publicly accessible DC fast charger stations as well.
We understand that making charging stations available to the public helps provide car shoppers with the confidence that they can charge an EV on their daily routes, in addition to the charging they'll do right in their own garage.
From Level 1 to DC fast chargers, Plugshare.com is the most popular site for finding chargers "on the go"—including National Grid's stations. The U.S. Department of Energy tracks charging stations as they're built, and can generate handy reports.
At National Grid, we have workplace charging available for our employees in several facilities so far, and the number is growing. We are also a proud ambassador of the Department of Energy's Workplace Charging Challenge.
If you're an employer, the DOE Workplace Charging Challenge will provide you with information and technical assistance, as well as recognition for your sustainability efforts. Learn more about workplace charging for your company and how you can participate.