Smart Meters
Smart meters help us monitor your energy usage and serve you
better, especially in the event of storms or service disruptions.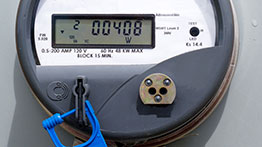 When smart devices talk to each other, customers benefit from the conversation! Installed in your home or business, smart meters send and receive messages to and from National Grid. They alert us immediately in the event you have an outage and allow for faster restoration, especially during storms.
They also collect detailed data about your usage so that we can provide you with new technologies, pricing, and energy management solutions. Smart meters allow us to communicate with you via the web or your smartphone, which a traditional meter can't do. The better, faster, and more detailed the information, the better we can monitor your energy usage and help you lower your bills.
What do customers think of smart meters? So far, the meters have been a resounding success. Our Worcester Smart Energy Solutions Program installed smart meters in participating customers' homes. In its first year, the program saved customers $1.25 million and a total of 2,300 megawatt-hours, which is enough to power a local library in Worcester, MA, for nearly a year.
We will continue to find opportunities for smart meters to keep saving energy and money for our customers, and to support the growth and modernization of our grid.