Disaster Preparedness Hub Completes Solar Installation 5-Years Post Sandy
Oct 26, 2017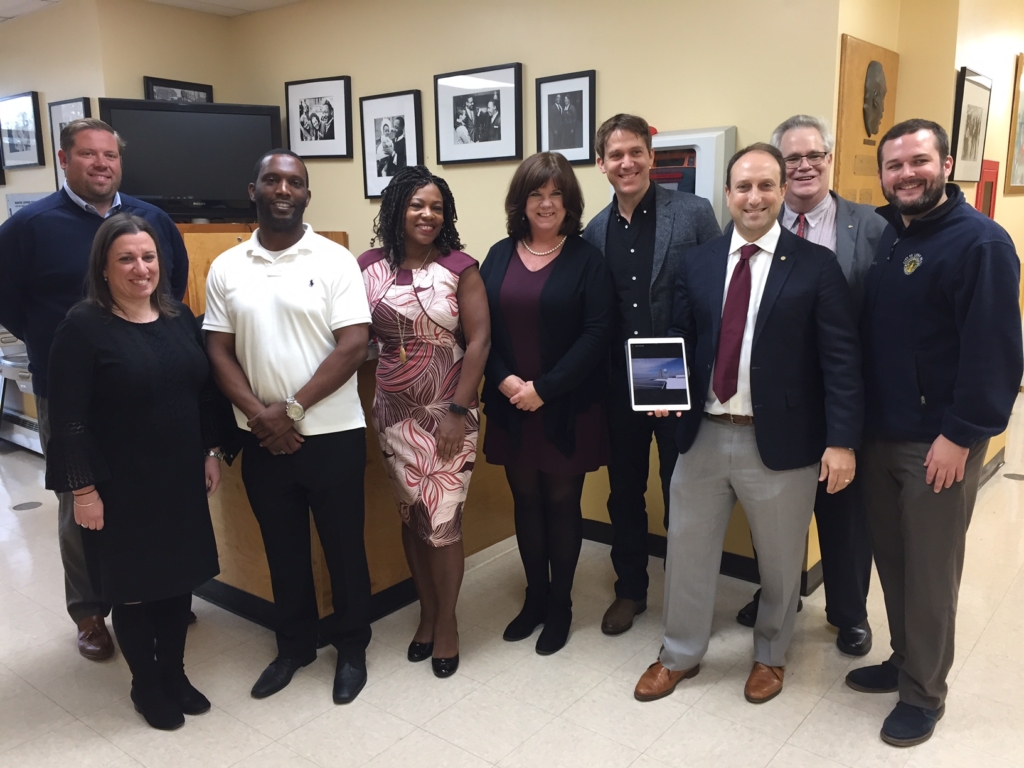 October 26, 2017 (Long Beach, NY) - The Martin Luther King Center in Long Beach is becoming a Climate Resilient Disaster Preparedness Hub, equipped with a 15-kilowatt solar panel system and LED lighting retrofit completed by Global Green with support from National Grid. The solar installation falls on the 5-year anniversary of Superstorm Sandy.
The Long Beach Martin Luther King Center, Inc. (The MLK: www.lbmlk.org) began in 1998 as a 501(c)(3), operating at the City of Long Beach owned Martin Luther King Center building. The non-profit agency works in the local community to improve the health, human welfare, and educational attainment outcomes of youth and families. The MLK continues the work of its similarly named predecessors who began their efforts in 1967. The MLK continues the spirit of its namesake by providing a mixture of community activism and voter registration efforts, as well as cultural enrichment. After school homework help has been offered as a primary service for the past 17 years, along with recreational activities, summer camp, life-skills, and senior citizen focused programs and events.
On October 26th, the City of Long Beach, Long Beach Martin Luther King Center, Inc., Global Green, and National Grid will celebrate this large step towards a more efficient, environmentally sound, and cost-effective hub for community growth and collaboration. The project builds upon collaboration by the City of Long Beach and National Grid during Superstorm Sandy. After Superstorm Sandy hit, National Grid employees spent many hours in the hard-hit community of Long Beach. They distributed thousands of blankets, cleaning products, toiletries, flashlights, batteries and more. They spent time going door-to-door to talk to residents without gas and electric service, and set up an informational booth at the MLK center to offer support and gas safety advice to the community. Volunteers at the MLK provided emergency relief support by acting as an additional supply distribution site in the city, and by providing hot meals, showers, and laundry services for local residents. Additionally, National Grid continues to upgrade and harden its infrastructure throughout the City.
"The recent hurricanes in the Gulf and wildfires in California demonstrate that communities need to act now to prepare for a changing climate. Through the partnership between Global Green, National Grid, and the City of Long Beach, we are both enhancing community assets and shaping a model that other communities can replicate. This investment in solar for the MLK Center is a big step in providing a resilient community facility that can provide essential services in the event of future storms or disasters." said Global Green Executive Director Walker Wells.
This project is one of several in the New York City region, as part of Global Green's Solar for Sandy effort and National Grid's commitment to transform its energy networks to support the 21st century digital economy with smarter, cleaner, and more resilient energy solutions.
"Climate change continues to increase the frequency and intensity of storms that's why National Grid is building on its partnership with key community organizations like the MLK Center to ensure that residents in hard-hit areas have places in their local communities where they can go for warmth and other essential services," said National Grid Director for Community and Customer Management Keith Rooney. "National Grid's partnership with Global Green extends our commitment to support our local communities, making them stronger and more resilient in advance of the next emergency. Extreme weather is here to stay and we are investing in a resilient 21st century energy system."
"Five years after Sandy, we continue along the pathway to recovery, and this project is yet another symbol of how Long Beach has become a model of resiliency and continues to lead the way in sustainability," said Councilwoman Chumi Diamond. "The MLK Center serves an important role in our community and this project will strengthen it for future storms as well reducing our carbon footprint and lowering energy costs."
Forty-seven 325 watt modules will produce enough energy to cover around 20% of the expected electricity usage before efficiency improvements, resulting in approximately $2,900 in savings annually. The installation takes place alongside several energy efficiency measures, including an LED lighting retrofit which will save an estimated $5,600 annually. SunPower by EmPower Solar, a local company who felt severe damages from Sandy, is the installer for the project.
The MLK building is ideal to act as a resiliency hub because it is located in the middle of the island, and its occupants operate year-round in service to the community and are committed to supporting recovery services in the event of an emergency event.