Pump up the savings with a high-efficiency mini-split heat pump!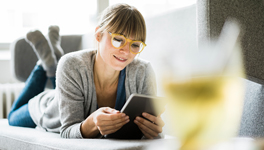 Are you currently using electric resistance, fuel oil, or propane to heat your home? High-efficiency mini-split heat pumps are quiet, easy to install and use about 30% less energy than traditional electric heat sources to keep you comfortable every day of the year. Plus they're now more affordable than ever with National Grid rebates, so you save even more. As a big added bonus, you get both, heating and cooling all in one! Enjoy year-round comfort, increase your home efficiency and cozy up to great savings!
Generous rebates lower your upfront costs
National Grid offers rebates based on the size of the system you install. Your participating contractor will estimate your total rebate amount, but typically you can save $2,000 or more on the installation of your new mini-split heat pump system, which is a great deal.
Additional financing options
In addition to rebates, National Grid is offering zero-interest loans of up to $15,000 for approved systems. This means you can have your mini-split heat pumps installed now, in time for this winter, and use the savings to help pay off the loan over seven years.