Lower Your Operating Costs and Increase Comfort for Your Parishioners.
We'll help identify energy efficiency improvements so your congregation can save energy and money while protecting the environment.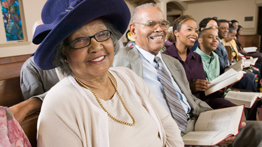 If you manage the facilities at a house of worship you may have wondered what services are available or how to take the first step in improving the energy efficiency of your buildings and the comfort of your congregation. We're here to help.
National Grid has developed a program specifically for houses of worship with a single point of contact who will help you access the incentives and upgrades available to you from lighting and HVAC systems to customized solutions for your community kitchens. The program includes:
Technical Assistance to identify opportunities for improvements as well as ongoing support through implementation.
Financial Support in the form of both project incentives as well as financing and repayment options.
Have questions? We're here to help. Give us a call at 1-833-443-7473 and we'll answer your questions or set up some time for a representative to visit your facility and perform a no-cost energy assessment.