Learn About Solar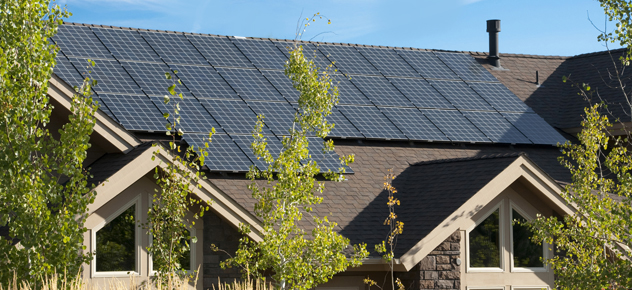 We are committed to leading the clean energy transition while continuing to provide affordable and reliable options for our customers. This includes offering more clean energy choices such as solar.
Whether you are a homeowner or renter, solar can save you money on electricity costs while generating your own power and reducing your carbon footprint. If installing solar isn't an option, then participating in community solar may be a great option to save on your bills while also helping to promote clean energy (learn more about Community Solar).
We want to help you make an informed decision about solar and have partnered with EnergySage to help you compare your solar options.
Determine if a home solar PV system is right for you
Obtain multiple quotes from pre-screened, local installers
Review local Community Solar subscription options
Make a confident decision with guidance from your dedicated Energy Advisor
Get a fair price for solar
No phone calls required


Why install solar panels?
Solar is one of the fastest-growing sources of clean energy. Here are a few good reasons to consider solar:
Save on monthly electric bills - Solar panels can help to reduce your electricity bill and provide long-term savings.
Generate your own energy - With solar panels, you can generate your own electricity on top of your roof.
Protect yourself from fluctuating energy costs – Across the country, the rising price of energy continues to cause concern. When you purchase a solar system, you are effectively locking in your electricity rate for 25+ years for the energy that your system generates.
Protect the environment - Solar is a clean, renewable source of energy and an important contributor towards decarbonizing the energy running through our electric network. By installing a solar system, the average home can eliminate three to four tons of carbon emissions each year - this is equivalent to planting over 100 trees annually. Community solar subscriptions are another great way for individuals and families to contribute to reducing carbon emissions.
Increase your property value - Studies have shown that homes with solar panels sell quicker and at a higher value than comparable, non-solar homes.
5 Reasons to Install Solar Panels Today
FAQs
When it comes to installing solar on your property, there are three primary decisions to make:
What equipment you want to install
How do you want to finance your solar panel system
Which installation company works best for you


Here are some key facts to keep in mind about each:
Equipment
The key components to a solar installation are solar panels, inverter, and mounting equipment. Compare solar panels, inverters, and batteries.
Not all solar energy equipment is created equal; panels, inverters, and batteries come with different warranties, efficiencies, certifications, and more.
Premium equipment options will often come with a higher price tag but may generate more solar electricity than standard equipment options.
Solar systems that can provide energy to your home even during a grid outage require additional equipment which will raise the cost of the installation.
Equipment manufacturers warranty their products for 10-30 years.


Financing options
You can finance a solar panel system through a loan or lease. You can also purchase a solar panel system upfront.
There are $0-down financing options available for going solar.
Solar financing products have different terms, interest rates, and down payments.
Installation companies typically partner with specialized solar lenders that can provide you with solar financing options, but you can also obtain your own loan directly (home equity loan, HELOC, etc.).


Installation company
Installers vary in terms of experience, reputation, company size, certifications, and warranty offered.
Most solar installers offer a workmanship warranty of at least 10 years.
Reputable installers will have online reviews and can typically provide contact information for references as well.
Anyone who pays an electric bill can look into joining a community solar project. A community solar project is a solar farm in your area that you can subscribe to in order to support solar and earn savings on your electric bill. A Community Solar Subscription is a great option for renters or anyone who is unable to install panels on their property.
Solar panels are made of silicon. When sunlight hits a solar panel, electrons in the silicon begin to move, initiating a flow of electricity. This creates direct current (DC) electricity. A solar inverter will convert the DC electricity into usable alternating current (AC) for your home.
You can use EnergySage's Solar Calculator to get ballpark estimates for solar costs and savings on your property. To use the calculator, you'll need to input your address, confirm your roof, and enter an average monthly electricity cost. The resulting costs and savings estimates will take into account these factors, along with current pricing data and any available incentives.
Every solar panel system is unique - the number of panels you'll need depends on how much electricity you want to generate, the efficiency of the equipment, the size of your roof, and your geography. When quoting a solar panel system, installers use design tools to propose an appropriately sized solar panel system based on these factors. Installers will also confirm system size at an in-person site visit prior to installation.
Net Energy Metering, or Net Metering, is a solar incentive that allows you to send any excess electricity your solar panels produce back to the grid for credits. You can draw electricity from the grid and use these credits at night when your solar panel system is not generating energy. If your solar panel system produces more than you used in a given billing cycle, we will add credits to use on a future electric bill. Alternatively, if you use more electricity than your solar panel system generates in a billing cycle, we will charge you standard electricity rates for the "net" energy you used from the grid during that month.
Yes. There are certain fixed charges associated with maintaining your connection to the electric grid that allow us to maintain and improve the system and respond to emergencies. If your PV system does not generate as much energy as you use, you will also be charged for the additional kWh on your bill.
The cost to install solar panels will depend on multiple factors, including your location, the type of equipment you choose, the size of the system, how you finance the system, and your installer. Fortunately, there are $0-down options available for installing solar panels, including both loan and lease arrangements.
There are currently both federal and state incentives available for going solar. If you purchase a solar panel system this year, the Inflation Reduction Act has increased the investment tax credit back to 30%.
In addition, New York residents who purchase a solar panel system are eligible for the state-funded Megawatt rebate and a state tax credit of up to $5,000. Read more about New York solar incentives.
You can save money by going solar with an upfront purchase, loan, or lease. Before financing a solar panel system, it's important to compare terms, down payments, rates, available incentives, and overall savings between your various options.
Solar systems that can provide backup power during outages require additional equipment including a battery, which will increase the overall cost. Through EnergySage and its vendors, you can explore the costs and benefits of such systems to determine what makes the most sense for your energy needs.
With a solar battery, you can store extra solar electricity at home instead of feeding it back to the grid. Solar batteries are an excellent source of backup power in the event of a grid outage. Adding a battery to your solar panel system will cost more upfront but you'll be eligible for multiple storage incentives and programs that will help minimize overall spend. Read more about battery costs and benefits.
You can't install a solar panel system on your roof if you don't own the building. However, that doesn't mean you can't go solar! Community solar is a great way for renters to support local clean energy projects and save money on electricity bills – you don't need to install any equipment or sign a long-term contract to subscribe to a local community solar project.
A lot of it comes down to preference. Community solar is a great option if you're a renter, if your roof is unsuitable for solar panels, or if you're looking for an easy, low-commitment way to support solar and save on electric bills. On the other hand, if your home is a good fit for a solar installation, you'll save more money in the long run by installing your own system.
Community Solar
Go solar and save – no roof required
With community solar, you can buy solar bill credits from a share of a local solar project. Our Community Solar Marketplace makes it easy to find, compare, and subscribe to open projects in your area.
Getting Started
The first step is to receive solar quotes from reputable local solar companies, which you can do online through National Grid's Solar Marketplace in partnership with EnergySage.
The second step is for solar companies to finalize their custom system design and quote based on any details specific to your home, a process that can be completed via a video conference call with solar companies.
Third, if and when you decide to make a decision on solar, you can select the installer with whom you'd like to move forward digitally through the Solar Marketplace.
At that point, all that's left is paperwork and contracts, all of which can be e-signed.


The actual solar installation largely occurs outside of your home with small, dedicated crews of electricians and installers. Installers will need access to your electrical panel but will otherwise be able to remain entirely outside your home. What's more, solar companies around the country have been trained on how to practice safe social-distancing measures during installations.


Is now a good time to shop for solar?
Yes! Right now, is a great time to shop for solar, for three main reasons:
There are great incentives such as the federal investment tax credit–which was extended with the Inflation Reduction Act, meaning you have more time to claim the tax benefit, which provides a tax credit of 30% for most solar shoppers.
Second, by reviewing multiple quotes by vetted installers you're able to save about 20% from average market pricing.
And third, you can begin the process of shopping for solar now and plan for an installation later this year, allowing you to take advantage of the low costs and best financial incentives.


Additionally, you can shop for solar entirely online through our Solar Marketplace. Solar companies are likely to be very responsive and communicative when you shop for solar online right now.


How can I get started researching my solar options?
We help our customers explore solar options through our partnership with EnergySage, the country's leading Solar Marketplace. You can learn more about the process of going solar, read reviews of local solar companies, and research and compare solar panel equipment. Use the online Solar Calculator to estimate how much installing solar can save you over the next twenty years.
When you're ready to take the next step with solar, we want to help you get there. Register for a free account with EnergySage and receive custom solar quotes from pre-screened solar installers near you. Our advisor network is available to answer any questions you have about the process of going solar, the quotes you've received, or the solar installers in your area. No phone calls are required, and your contact information is not shared with any contractors.
---
Are you enrolled in the Distributed Generation program?
If you are enrolled in the Distributed Generation program, please be aware of changes:
Distributed Generation credits only apply to current electric supply and delivery charges and cannot be used against late payment or gas charges;
Excess Distributed Generation credits are not refundable and will apply to future bills;
The amount due in the payment portal now matches the amount due on your bill image.