Gas Water Heating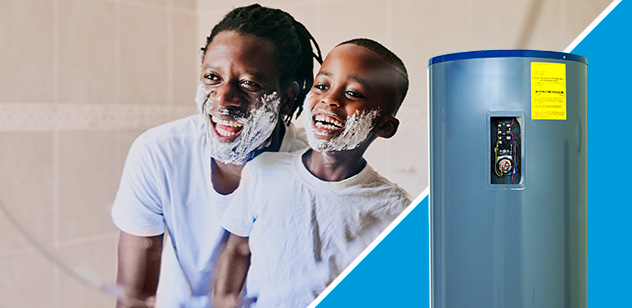 Take advantage of our final opportunity to redeem rebates on gas heating equipment by December 31, 2023.
Let the savings, comfort, and efficiency flow.
You can start saving money right away with rebates on high-efficiency gas water-heating equipment.
Saving money and energy is always important. New, high-efficiency water heating equipment can help you do both. That added efficiency is good for your budget, comfort, and peace of mind.
To see if now is a good time to upgrade your water heater, check the age and health of your current water-heating equipment. After all, we understand that nobody wants to experience a breakdown in the middle of winter.
Use this chart to see if it's time for you to switch to the savings, comfort and peace of mind of a high-efficiency model.
| Type of Water Heater | Average Effective Unit Life Span (Years) |
| --- | --- |
| Heat Pump Water Heater | 10 |
| Indirect Water Heater | 11 |
| Storage Water Heater (Gas) | 15 |
Exclusive rebates for National Grid customers on high-efficiency water heaters that save energy without sacrificing performance.
---
*Rebate applications must be submitted by no later than 12/31/23.