Heating Your Home
Natural Gas Heating and Water Heating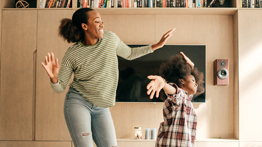 Did you know that space heating can take as much as 50 percent of your home's energy budget? And water heating can take another 15 percent? Space and water heating represent a big part of your energy costs.
At National Grid, we believe everyone should feel comfortable at home while also enjoying the peace of mind that comes with conserving energy, saving money and choosing reliable, state-of-the-art products and technologies. Save on heating costs for years to come—up to 30 percent—when you upgrade to a high-efficiency boiler or furnace.
If your water heater is 10 years or older, don't wait until it breaks, upgrade to a new, high-efficiency gas water heater today and start saving up to 50 percent more energy than your old, less efficient model.
Take advantage of our limited-time, enhanced rebates up to $800 on qualifying, natural gas heating and water heating equipment.