Bringing Holiday Cheer to Syracuse Senior Facility
Dec 08, 2020 - 12:00 PM
Categories: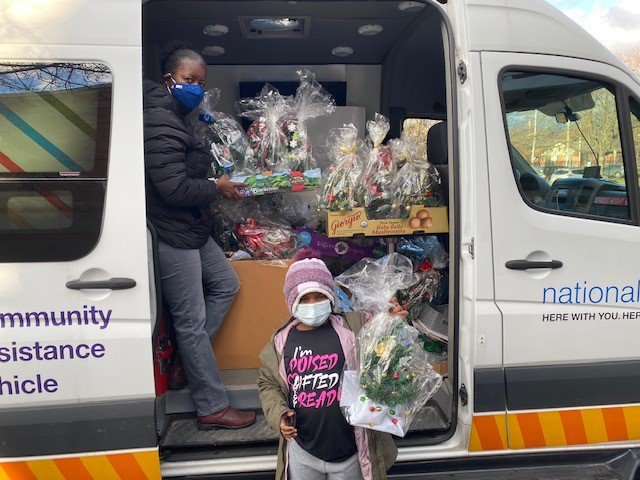 National Grid and the PGR Foundation partner on a 'Holiday Trees for Our Senior Friends' campaign to bring holiday cheer to the residents of the Central Park Rehabilitation and Nursing Center in Syracuse. The volunteers delivered 100 tabletop artificial holiday trees during a time when the residents are separated from their families due to the COVID-19 pandemic.
"We are overjoyed by all the gifts National Grid brought today," said Nikia Dennis, Administer at the Central Park Rehabilitation and Nursing Center. "Our residents haven't seen their families since the start of the pandemic. It has been really tough for our residents, their families and the staff. Thank you, National Grid, for everything you are doing to brighten our spirits."
The PGR Foundation is a not-for-profit mentoring program that provides resources and mentorship for underserved girls for ages 6-18 years old to inspire and empower them to recognize and develop their talents at an early age and to encourage them to use their gifts to contribute to society. The mentoring program builds their character to ensure they are 'Poised, Gifted & Ready' for the world. Learn more about PGR on their website at https://pgrfoundationinc.org/ or Facebook at https://www.facebook.com/pgrfoundationinc/
"We are partnering with the PGR Foundation to add a little holiday cheer to the residents of the Central Park Rehabilitation and Nursing Center," said Alberto Bianchetti, National Grid's Central New York Regional Director. "They're not able to see friends or visitors and it's our way to bring joy to the center of the City of Syracuse."
National Grid gives back to the communities it serves by recognizing the tireless support of organizations like the PGR Foundation and the help needed to improve the lives of those in need.
Bianchetti noted the COVID-19 pandemic has challenged our customers and communities in unprecedented ways and brought uncertainty in daily life. The company volunteers are committed to supporting local not-for-profit organizations and they are now, more than ever, committed to helping our customers through these difficult times to power through together.
About National Grid
About National Grid: National Grid (NYSE: NGG) is an electricity, natural gas, and clean energy delivery company serving more than 20 million people through our networks in New York, Massachusetts, and Rhode Island. National Grid is transforming our electricity and natural gas networks with smarter, cleaner, and more resilient energy solutions to meet the goal of reducing greenhouse gas emissions.
For more information, please visit our website, follow us on Twitter, watch us on YouTube, friend us on Facebook, and find our photos on Instagram.
Media Contacts
Related News