National Grid Uses Electric Backhoe in Field Work to Test the Fleet Equipment of the Future
Feb 17, 2021 - 10:00 AM
Categories: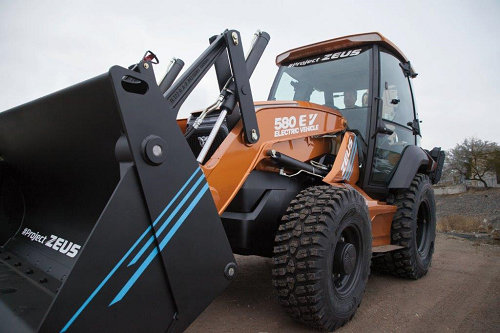 ALBANY, NY – Typically, construction sites are noisy places with heavy, diesel-fueled equipment digging, moving and lifting materials. National Grid is taking steps to make the construction site a little quieter, and "greener," by being one of the first utilities to incorporate a fully electric-powered backhoe into its fleet.
National Grid is partnering with CASE and Green Machine to test a fully-electric backhoe to help deliver New York's ambitious clean energy goals, while performing equivalently to other diesel-powered equipment.
"So far this backhoe has performed equally or better than traditional equipment used in the field," said Brian Sano, National Grid director of gas field operations for eastern New York. "One advantage is the noise reduction on the work site, allowing for better communication between supervisors and crew members while a job is in progress."
Using battery-operated equipment helps National Grid reach its companywide emissions target of net zero by 2050, and further supports the company's initiatives to increase the number of electric vehicles across its service area.
"National Grid has been at the forefront of incorporating battery-powered construction equipment into our business, and this new backhoe loader directly supports our corporate goal," said John Bruckner, National Grid's New York President. "Electrifying our vehicle fleet is among the many initiatives we're implementing across our business to achieve this target. We are proud to be working with CASE, Green Machine, and so many other partners to deliver the clean energy future."
By purchasing and testing battery-powered construction equipment, National Grid is leading the way for other energy companies as well as businesses in the construction industry by demonstrating and realizing benefits to the environment, customers, communities and employees.
"New York State leads the country on climate action with the nation's most ambitious carbon emission and renewable energy targets," said New York Assemblymember Patricia Fahy.
"Our transportation sector accounts for approximately 36% of all greenhouse gas emissions in New York according to NYSERDA, and any action to meet our climate goals must include electrification of our state's vehicle inventory facilitated by both the public and private sectors. I commend National Grid for its commitment to becoming net-zero by 2050, and for recognizing that electrification of our transportation grid is critical in achieving that objective."
CASE's traditional 580 N EP diesel-powered backhoe loader was used as the foundation for the project. The company worked with National Grid to electrify the product in conjunction with Green Machine, a Buffalo-based company known for a variety of battery-powered products including EV mini excavators, which National Grid has been using since 2012 and Moog, an international designer and manufacturer of advance motion control products.
"The backhoe is ideal for electrification as the varied-use cycles, from heavy to light work, provide an excellent opportunity to convert wasted diesel engine hours into zero consumption battery time, yet provide the operator with instantaneous torque response when needed," said Brad Stemper, North American compact equipment product lead at CASE. "At low idle a diesel engine has reduced torque and requires time for the engine to ramp up to meet the load demands. Electric motors, on the other hand, have instantaneous torque and peak torque available at every operating speed."
"We commend National Grid for its forward-thinking commitment to a cleaner, greener community," says Jon M. Williams, Chairman/CEO of Viridi Parente, the parent company of Green Machine. "We're proud to have our state-of-the-art battery technology powering the Case 580 EV allowing it to be among National Grid's vital fleet of construction equipment. We look forward to building on our longstanding relationship with National Grid as it moves closer to its environmentally responsible goal of zero emissions while demonstrating that clean energy innovation and manufacturing is alive and well in Buffalo, NY."
The CASE 580 EV is powered by Green Machine's 480-volt, 90-kilowatt-hour lithium-ion battery system that can be charged by any 220-volt connection. While applications vary, a full charge can support common eight-hour workdays. The battery separately powers the drivetrain and hydraulic motors, resulting in hydraulic breakout forces equal to diesel-powered machines and improved performance during simultaneous loader and drivetrain operation.
"We're proving the power and effectiveness of electrification at the larger end of the light equipment spectrum," says Stemper. "This is just the start — and it's organizations like National Grid taking this step in committing to sustainability in all matters of its business, from reducing waste to fleet management and community improvement, that will drive the success and adoption of electric construction equipment."
About CASE
CASE Construction Equipment sells and supports a full line of construction equipment around the world, including the No. 1 backhoe loaders, excavators, motor graders, wheel loaders, vibratory compaction rollers, crawler dozers, skid steers, compact track loaders and rough-terrain forklifts. Through CASE dealers, customers have access to a true professional partner with world-class equipment and aftermarket support, industry-leading warranties and flexible financing. More information is available at www.CaseCE.com. CASE Construction Equipment is a brand of CNH Industrial N.V., a World leader in Capital Goods listed on the New York Stock Exchange (NYSE: CNHI) and on the Mercato Telematico Azionario of the Borsa Italiana (MI: CNHI). More information about CNH Industrial can be found online at www.cnhind.com.
About Green Machine Equipment, Inc.
Headquartered in Buffalo, New York, Green Machine® is a wholly owned subsidiary of alternative energy company Viridi Parente, Inc. Green Machine's WhisperDrivetm technology is at work powering mini excavators, portable light towers and an array of other similar machine platforms. In addition to numerous safety benefits, systems powered by WhisperDrivetm have zero tailpipe emissions in comparison to diesel equivalents, and significantly reduced operating and maintenance costs, all while delivering the same power, performance, and feel as their diesel-powered predecessors.
About National Grid
National Grid (NYSE: NGG) is an electricity, natural gas, and clean energy delivery company serving more than 20 million people through our networks in New York and Massachusetts. National Grid is focused on building a smarter, stronger, cleaner energy future — transforming our networks with more reliable and resilient energy solutions to meet state climate goals and reduce greenhouse gas emissions.
Media Contacts
Related News