National Grid and Standard Hydrogen Corporation Announce Plans for Innovative Hydrogen Energy Station
Mar 11, 2021 - 10:00 AM
Categories: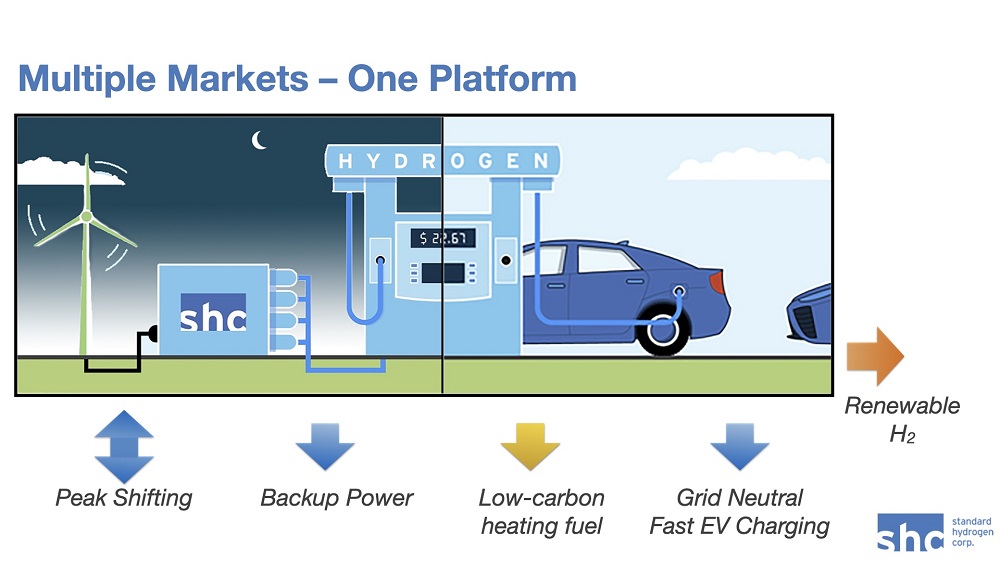 WALTHAM, MA/ALBANY, NY - National Grid is taking additional steps into a clean energy future today by announcing a partnership with Standard Hydrogen Corporation to demonstrate the nation's first multi-use, renewable hydrogen-based energy storage/delivery system in New York's Capital Region, with completion expected by late 2022. The system will produce and store hydrogen exclusively from purchased renewable power and will make use of the inherent flexibility of hydrogen. Once installed the system can safely offer up to nine market-based zero-carbon energy services that support electric service, heating, zero emissions vehicle services and commercial gas service – all from one system at one site. The system has the capability to eliminate 6,400 metric tons of carbon dioxide emissions and 740,000 gallons of gasoline demand annually. It will be operated by Standard Hydrogen in a financially optimized manner to reduce the impact on utility customers. This project was conceived through a NY State REV Connect Innovation Sprint.
This initiative supports New York State's ambitious Climate Leadership and Community Protection Act, as well as National Grid's goals that include:
Reducing greenhouse gas emissions from our direct operations by 80% by 2030, 90% by 2040 and to net zero by 2050, from a 1990 baseline;

Reducing greenhouse gas emissions from the electricity and gas we sell to customers by 20% by 2030, from a 2016 baseline, and further reduce these emissions beyond 2030 consistent with our states' targets; and

Prioritizing 10 major focus areas to achieve our net zero ambition by 2050 for our US operations and the energy we deliver to customers.
"Green, renewable hydrogen is a key piece of the puzzle to reach net zero by 2050," said Badar Khan, President of National Grid, US. "The new hydrogen-based system is going to reduce emissions in New York across power, transportation and heating, the three most difficult sectors to decarbonize. Innovative systems like this one are going to move the needle for a cleaner tomorrow."
The hydrogen for the SHC Energy Transfer System will be produced renewably at the site using state-of-the-art electrolysis systems that splits water molecules (hydrogen and oxygen) into gases that it then uses hydrogen as a medium for renewable energy storage. Hydrogen is a renewable carrier that can be used in a variety to applications including filling fuel cell vehicles, resulting in no greenhouse gas emissions.
"There is great hydrogen momentum right now. We are delighted to announce this exciting partnership, and the first infrastructure project within it, to add to that story," said SHC co-founder and CEO, Paul F. Mutolo, PhD. "National Grid understands the advantages of hydrogen to reach many of their future energy goals. SHC is delighted to deliver that value – both economic and ecologic – through the operation of our ETS for National Grid."
"This is an impressive step forward for New York State, and for New York's grid. When innovators work together with utilities, it provides a way to bring those benefits to New York more quickly, and with greater benefits for ratepayers," remarked William Acker, Executive Director of the New York Battery and Energy Storage Technology consortium (NY-BEST). "We look forward to this project coming to fruition and demonstrating important capabilities needed to achieve New York's clean energy and climate goals."
Today's partnership is the latest step National Grid has taken to advance the potential of clean hydrogen as part of its Net Zero by 2050 Plan. In addition, the Company recently joined the Low-Carbon Resources Initiative, a five-year initiative to develop and demonstrate key clean energy technologies and decarbonization solutions. Also, National Grid recently helped secure $12.45 million in funding from the US Department of Energy for six of their national laboratories to facilitate research and accelerate the potential of hydrogen blending. National Grid is proud to support this work. Further research and development will be crucial to unlocking the true potential of hydrogen as a clean source of energy that can serve multiple sectors of the economy.
About National Grid
National Grid (NYSE: NGG) is an electricity, natural gas, and clean energy delivery company serving more than 20 million people through our networks in New York and Massachusetts. National Grid is focused on building a path to a more affordable, reliable clean energy future through our
fossil-free vision
. National Grid is transforming our electricity and natural gas networks with smarter, cleaner, and more resilient energy solutions to meet the goal of reducing greenhouse gas emissions.
Media Contacts
Related News