Planting Positivity with Power4Tomorrow
Apr 29, 2021 - 1:30 PM
Categories:
On a recent warm spring morning, a trio of Norway Spruces were being planted near the waterfront at India Point Park.
It's a positive offshoot of National Grid's
Power4Tomorrow
project, which is replacing roughly two miles of existing and aging 115kV underground transmission lines along parts of Clarkson, Admiral, Dollar and South Main Streets to bring reliability to the electrical grid in Providence.
In all, more than sixty trees will be planted on South Main Street, India Point Park and Gano Street Park. They are also being installed at the Gregorian School off Wickenden Street, the South Providence Boys and Girls Club and an elementary school on Prairie Ave. The installation, which will bring a bevy of environmental and health benefits to the city setting, has been a collaborative process between neighbors and National Grid.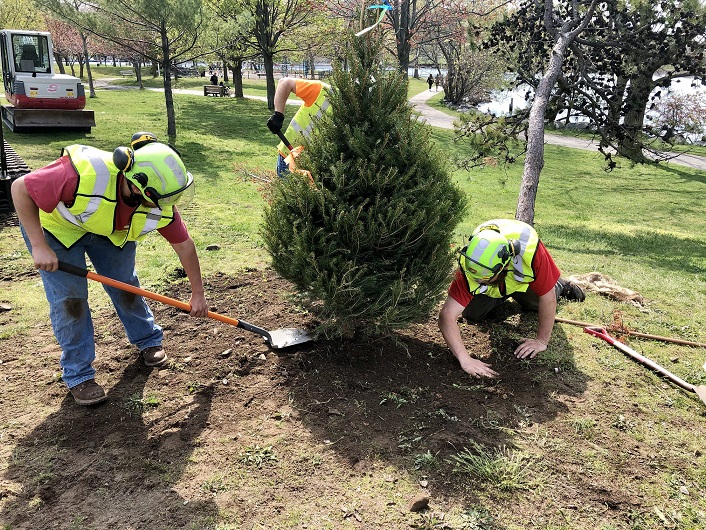 "I'm just so excited about these trees going in and want to send my heartfelt thanks to National Grid for being such great partners where trees are concerned," said Marjorie Powning, Co-Chair of Friends of India Point Park, which promotes, protects, and improves the park as an informal, natural open space. "We are on a mission here to help increase our urban tree canopy as our urban forest needs to grow to combat climate change, India Point Park is the perfect place to get that done because we are right here close to the city."
Powning also been working with a group of interested residents and National Grid on a tree restitution advisory committee to bring more greenery to the area.
Marisa Albanese is a Community and Customer Manager with National Grid in Rhode Island. She and Chris Rooney, National Grid's Lead Supervisor for Vegetation Management, have taken part in multiple Zoom meetings with the tree restitution advisory committee, which also includes Providence City Councilman John Goncalves. Last summer, as part of the Power4Tomorrow project, three London Plane trees had to be removed so that two aging, underground transmission lines could be replaced, upsetting some residents.
"We knew the impact the three London Plane trees had," said Albanese. "The city has an ordinance that governs tree restitution and normally the City Forester decides the location of the new trees. We knew that we needed to earn the community's trust, so we engaged in more of a collaborative process with city officials and residents. I think folks truly appreciate our time and effort on this process. They are happy because we are planting more trees in sparse areas and have included more diverse species."
Planting trees in an urban setting presents unique challenges said Rooney, "There are water, heat and pollution challenges in the city." He added that in addition to the Norway Spruce, the Red Maple, Elm, Oak and Tulip Trees chosen for this project were picked because of their abilities to survive in the city.
"We've done right-of-way jobs many times," said Rooney. "But this is an urban setting, where we are seeing a push for more green and a real desire to replace trees."
National Grid is planting now and has agreed to maintain the trees for the next two years. That also means watering and mulching them. After that, the City of Providence will be taking care of them.
The tree planting project is scheduled to wrap-up in mid-May. Rooney said, "With some TLC these trees can last more than fifty years."
Powning was walking in India Point Park the day the Norway Spruces were planted. "I hope everybody enjoys this as much as I do, and I feel like this is just the beginning – thank you so much!"
About National Grid
About National Grid: National Grid (NYSE: NGG) is an electricity, natural gas, and clean energy delivery company serving more than 20 million people through our networks in New York, Massachusetts, and Rhode Island. National Grid is transforming our electricity and natural gas networks with smarter, cleaner, and more resilient energy solutions to meet the goal of reducing greenhouse gas emissions.
For more information, please visit our website, follow us on Twitter, watch us on YouTube, friend us on Facebook, and find our photos on Instagram.
Media Contacts
Related News