Agribusiness Grants Keeping Farms Sustainable, Competitive
Aug 18, 2021 - 8:45 AM
Categories: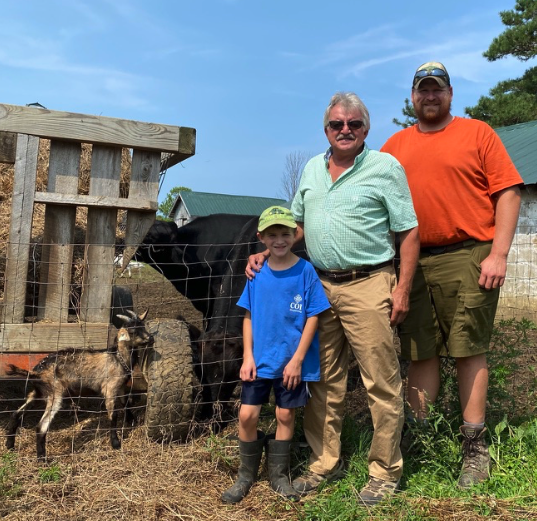 When Drake Joy introduces himself, he proudly says, "I have a full-time job."

Drake, who is 8-years-old and growing up on the 180-acre family farm, is learning about vegetables, various grapes and running the goat, poultry and hog operations. He plays an active role in helping his father, Andy Joy and grandfather, Jim Joy, whose grandparents, Joseph and Rose Joy, emigrated from Sicily and founded JM Joy Farms LLC in 1909.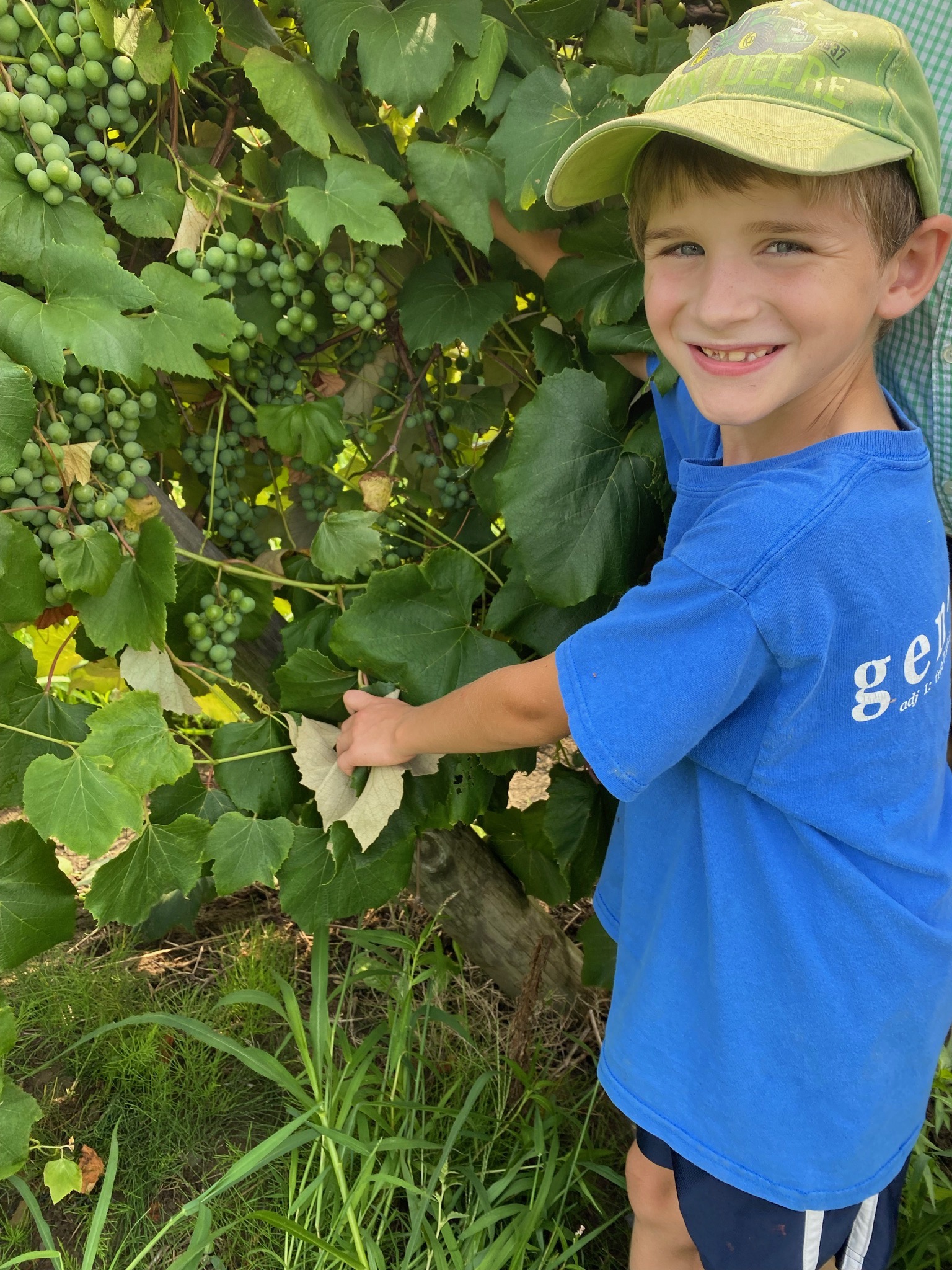 Drake Joy takes care of Concord grapes
on the family's 180-acre farm
Jim, top middle, said that his grandparents were among many who emigrated from Sicily to Fredonia because of the availability of rich agricultural land and Chautauqua County's lake plains. He added that when the farm eventually is run by Andy, top right, and Drake – who would represent fourth- and fifth-generation family ownership – that clean energy and sustainability will be keys to their success.

And when he learned that National Grid offered a grant for solar panels that he wanted to install on the old storage building, he wanted to learn more.

For qualifying farming families like the Joys, National Grid awards agribusiness productivity grants. Offered through its suite of economic development programs, the grant provides rebates to fund energy efficiency, renewable energy delivery and/or productivity improvements undertaken by agricultural facilities within National Grid's service area.

After considering wind turbines, Jim Joy decided solar would be a better and safer option for his farm, which consumes a lot of energy to operate various coolers, fans, water pumps and freezers to manage his operations. He also grows Concord grapes, which are shipped to nearby Welch Foods Inc., which uses the fruit for jellies and juices.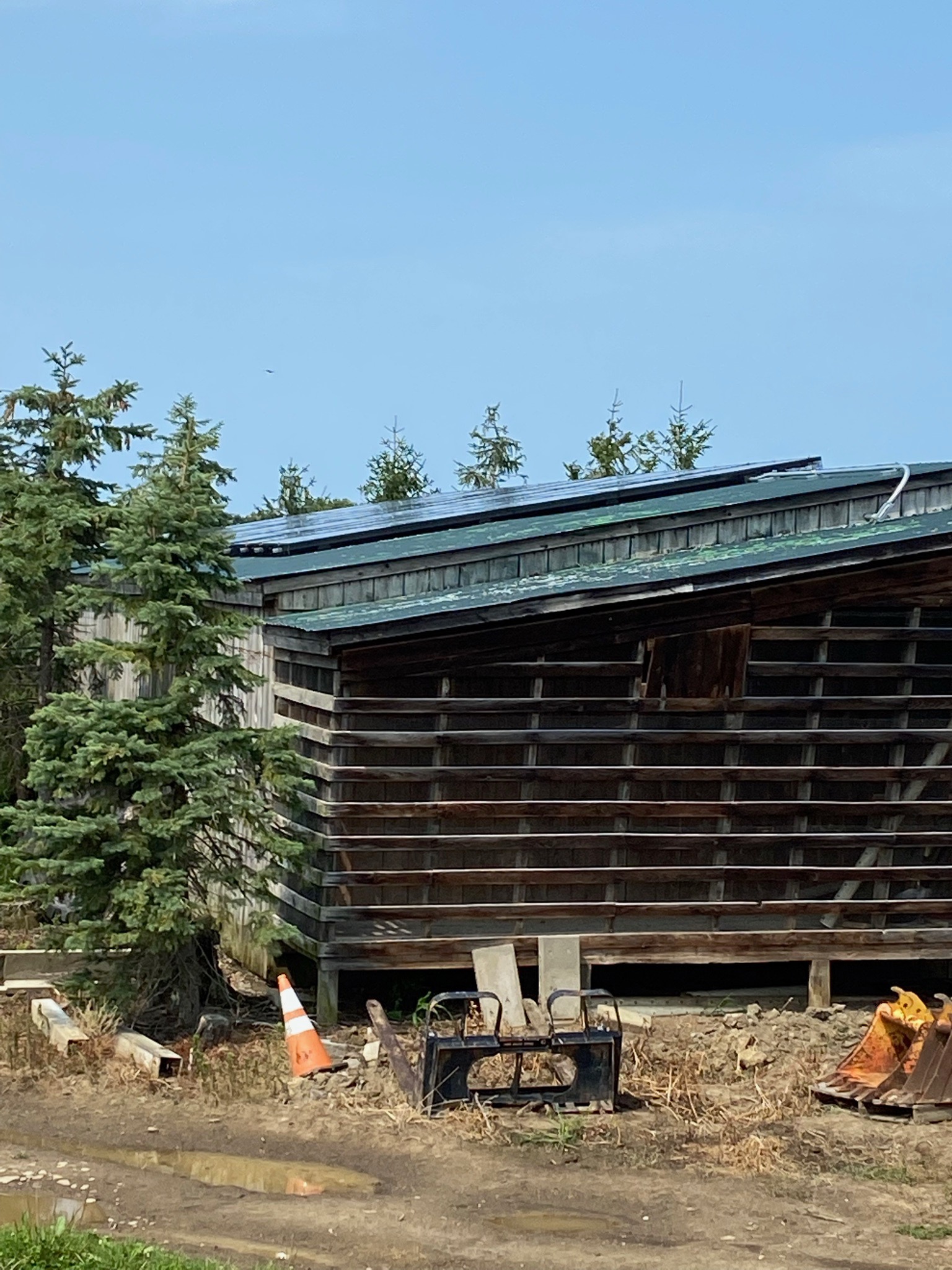 WIth assistance from a National Grid grant, the Joys
installed solar panels on the roof of their storage building.

For the work he's doing today, and with an eye toward the future, Jim said that sustainability is key to be able for him to sell and continue selling products.

"Companies like Welch's and other big players want to make sure that you're sustainable," he said. "We need to add another big freezer, and we're using a lot of power 24/7/365. The solar investment will help us to expand."

Jim added that for the $40,000 solar project he was aided by some funding that came through NYSERDA, plus assistance from National Grid, which awarded a $10,000 grant.

"That $10,000 really helped," he said. "National Grid made it worthwhile. It was significant and for farmers, the program is great. More farmers should take advantage of the opportunity provided by National Grid."
Another farmer who took advantage of the opportunity is Max Russell, who used a $10,600 National Grid agribusiness grant to build a 16,800 square- foot fruit storage facility on their 1,500-acre apple farm in Burt, N.Y.

Built in 2019, the facility boasts six giant atmosphere-controlled storage rooms. This fall will mark the third harvest season that the Russell family will stack up to 22,000 bushels of apples to the ceiling in all six rooms.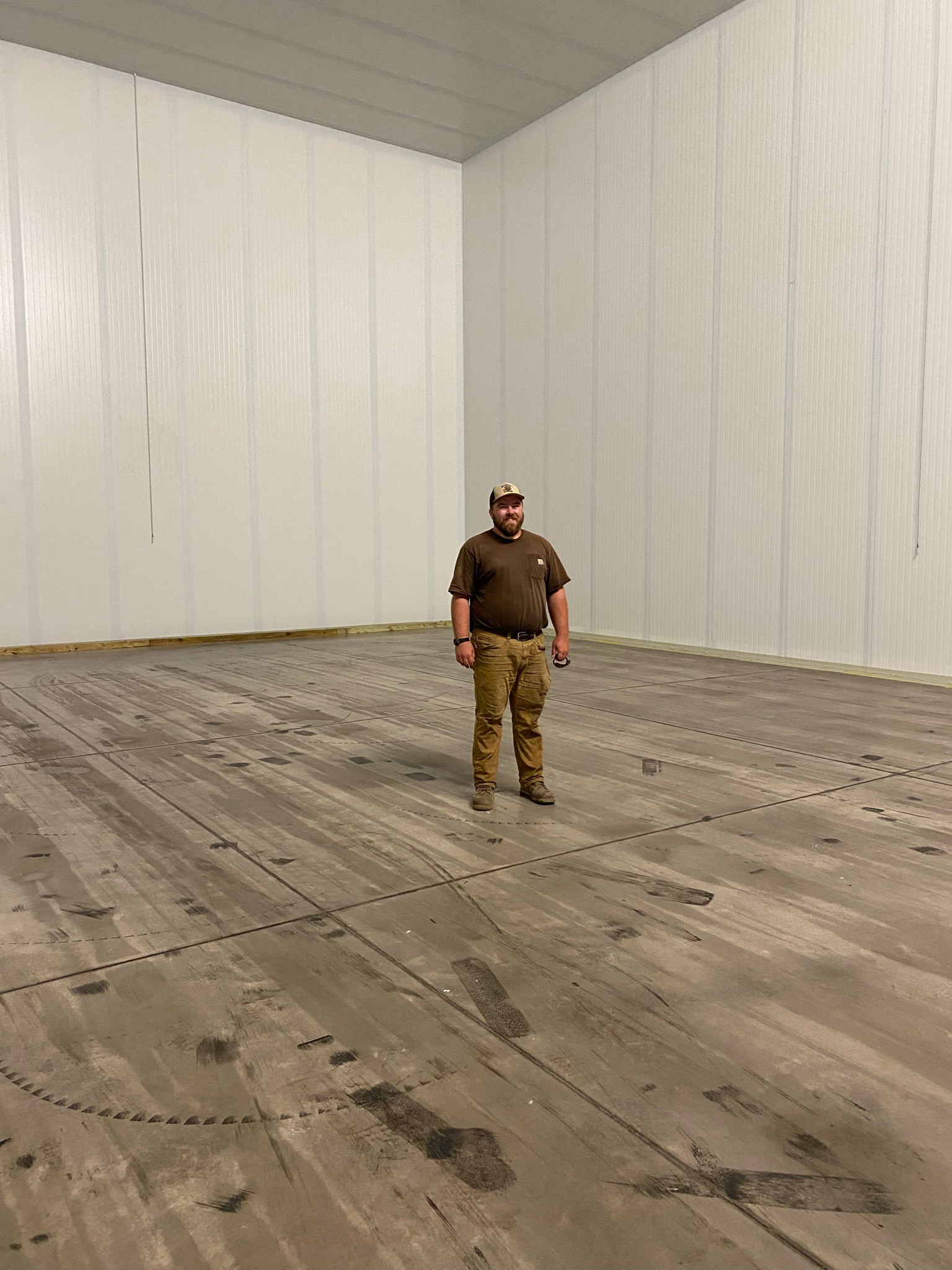 Max Russell stands in one of Russell Farms' new atmosphere-controlled apple storage rooms.
Each room is approximately 2,400-square-feet, with 26-foot ceilings.

Russell Farms was founded in 1866 and is in its sixth generation of family-run ownership, making it one of Western New York's oldest family-owned businesses. Years ago, Russell Farms added fruit storage as part of a co-operative agreement with the business next door, Sun Orchard Fruit Co., which packs fruit stored at Russell Farms and ships it to area supermarkets and to companies that make juices.

Russell said that the grant was used for new, high-tech controls to ensure that those stored near the floor remain as fresh as those near the ceiling.

"The grant covered costs related to electronics and refrigeration controls and defrost cycles, which is the most energy-intensive part of the process," he said. "Overall the process of working with National Grid was great."

Russell echoed the thoughts of Jim Joy and said that more farmers should be aware of National Grid's programs.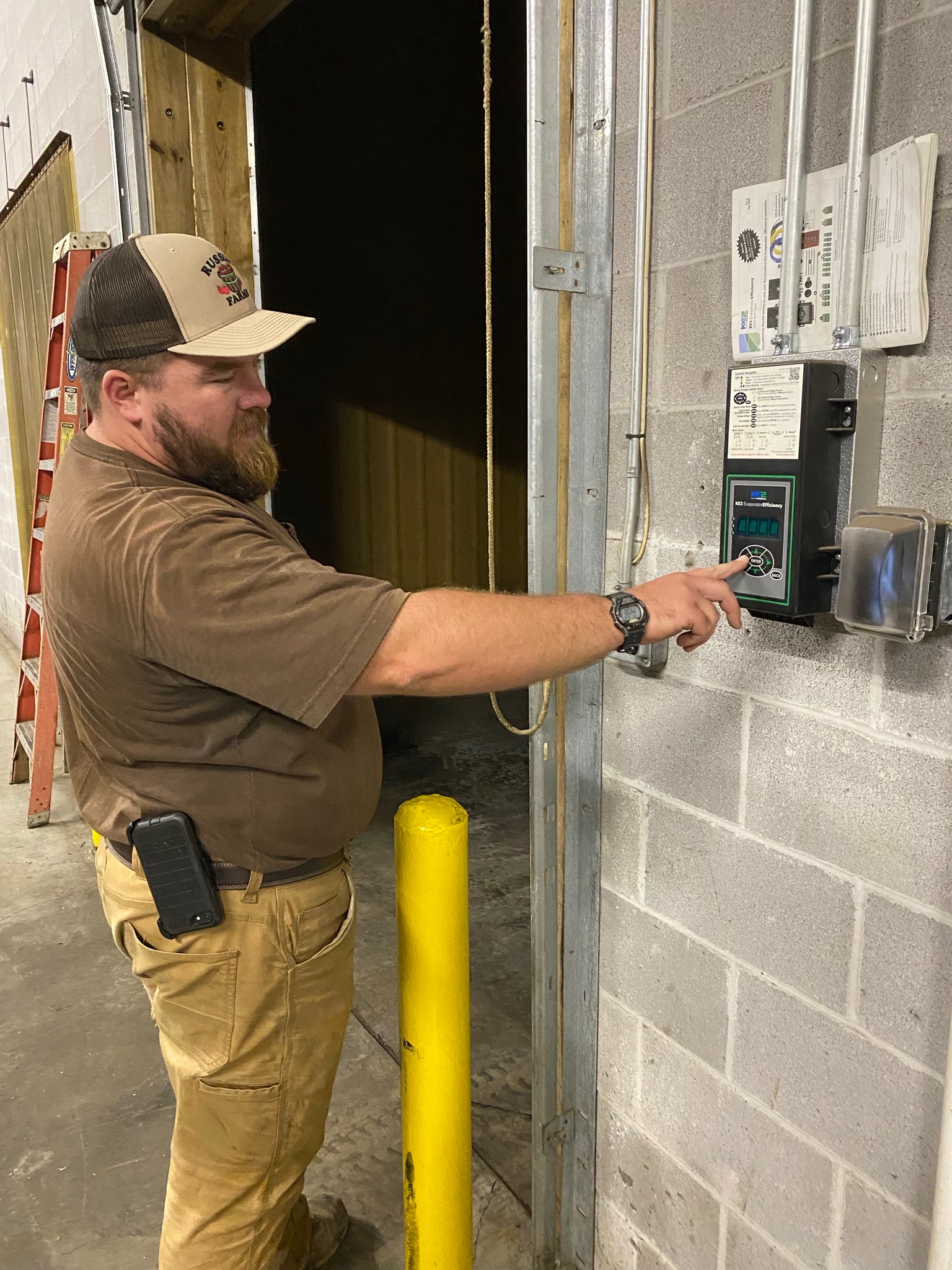 Max Russell said that the newly-installed
high-tech controls are key to keeping apples fresh.

"Sometimes, it may be difficult for farmers and others to navigate these kinds of grant program processes as they can be overwhelming and not worth their time, but the big takeaway for us is that this wasn't the case at all," he said, adding that National Grid lead economic development representative Mary Grace Welch simplified the process.

"From the first time we reached out to Mary Grace, we explained what we wanted to do and she matched us with the program," he said. "She was responsive throughout the process and made it easy."

For more information about National Grid grant programs visit www.shovelready.com or contact MaryGrace.Welch@nationalgrid.com
About National Grid
National Grid (NYSE: NGG) is an electricity, natural gas, and clean energy delivery company serving more than 20 million people through our networks in New York and Massachusetts. National Grid is focused on building a path to a more affordable, reliable clean energy future through our
fossil-free vision
. National Grid is transforming our electricity and natural gas networks with smarter, cleaner, and more resilient energy solutions to meet the goal of reducing greenhouse gas emissions.
Media Contacts
Related News