Making Way for Right-Of-Way Real Estate with Pollinator Project
Aug 30, 2021 - 12:45 PM
Categories: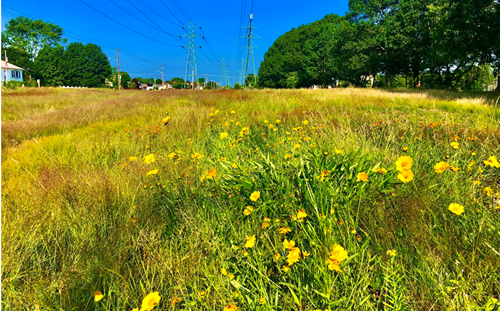 If you pay someone to mow your lawn, chances are it's not costing you tens of thousands of dollars a year. That's what National Grid can spend on many of its rights of way (ROW) in Rhode Island, but the Company is trying something different on one ROW near Pawtucket's Slater Memorial Park to keep it clear.
It's an innovative new study is measuring the benefits to let that land turn back to a meadow, letting native pollinators thrive and cut down on mowing costs. National Grid is conducting several pollinator projects on multiple rights-of-way in New England.
The study will research National Grid's integrated vegetation management (IVM) program and quantify the presence of a native seedbank, beneficial plants and insect communities.
National Grid utilizes a program called IVM to maintain its rights-of-way (ROW). The ROW is the off-road section of our lines, these are not the poles and lines that run along the roadside.
The IVM program encourages the establishment of a low growing plant community within the ROW using mechanical, biological, & herbicide treatments. National Grid's IVM program is based on 4-5-year cycles which schedule crews to target incompatible vegetation as selectively as possible and then allows early successional ecological communities (low-growing plants and shrubs) help maintain compatible vegetation between treatment programs.
National Grid is presently sampling 222 belt transects in about 15 different areas of our 1,600-mile system. That equates to roughly 60 miles across Rhode Island, Massachusetts, New Hampshire and Vermont.
The site in Pawtucket was converted from grass to pollinator friendly species. On most of National Grid's rights-of-way, these species exist due to the use of the IVM program.
"With this pollinator project, National Grid is helping to advance the science of biodiversity and organisms that live in the ROW," said Dr. Anand Persad, the Director of Research, Science and Innovation with ACRT Services, which is conducting the study for National Grid.
The project began in the spring of 2021 and will continue at least through the winter of 2021. The plan is to conduct multiple years of research. Dr. Persad and his team have traveled from Rhode Island to Vermont, taking samples from the ROWs. That material will turn into a bio audit, collection, analysis, reporting and a link to ACRT's system which will show a map depicting heat maps and pollinator hot spots.
According to Dr. Persad, New England is an exciting area to study because there is not a lot of data coming out of the region and there is a lack of data in pollinators. "In New England you have a late spring, quick summer and early fall and all this leads to a short grow season, it represents an opportunity to capitalize on the study."
In Pawtucket, signs denoting the Transmission ROW have been put up in the field. In part they read, "Utility corridors like this one are important to local pollinators. This site is now a meadow. National Grid has planted wildflowers that will bloom throughout the growing season, to make sure local pollinators have a consistent food supply. Look for butterflies and hummingbirds among the flowers."
Jon Duval, a senior supervisor of transmission forestry with National Grid, has worked closely with Dr. Persad on this project. "This is a very unique habitat that exists under power lines and is uncommon in the New England area," said Duval. "These meadows are few and far between – the more we do of preserving these pollinator spots – the more time and money we save the Company."
Dr. Persad said the safe and reliable strategy National Grid and Jon Duval have maintained with the ROW, has translated into good vibes with the neighbors. "They walk by and see the signs and walk through the ROW and feel good about the community and the role that National Grid is doing, which is promoting biodiversity when it doesn't have to, and it also extends to having a habitat of value."
Rachel Beinemann is a lab supervisor with ACRT was collecting field samples with a cotton cloth net in the Pawtucket ROW on a sweltering day recently. She ends up sifting through the bugs, flora and fauna that are collected from the meadow in Pawtucket at ACRT's labs in Ohio.
"The amount of diversity in the samples we are seeing here is a good thing," Beinemann said. "That means a variety in terms of pollination and we don't a species to go extinct. Additionally, this study will help us determine if a species is rare, endangered or threatened.
National Grid's Mariclaire Rigby, Lead Specialist in Vegetation Strategy, has been enthusiastic about the pollinator project and what it means for the Company. "We do have a mowing budget and this report that we'll get from Dr. Persad can help us reduce mowing and operating costs and at the end of the day this helps improve our vegetation management program."
About National Grid
About National Grid: National Grid (NYSE: NGG) is an electricity, natural gas, and clean energy delivery company serving more than 20 million people through our networks in New York, Massachusetts, and Rhode Island. National Grid is transforming our electricity and natural gas networks with smarter, cleaner, and more resilient energy solutions to meet the goal of reducing greenhouse gas emissions.
For more information, please visit our website, follow us on Twitter, watch us on YouTube, friend us on Facebook, and find our photos on Instagram.
Media Contacts
Related News