National Grid Partners with Bloc Power & New York Edge to Launch Clean Energy Workforce Development Training Program
Nov 16, 2021 - 11:00 AM
Categories: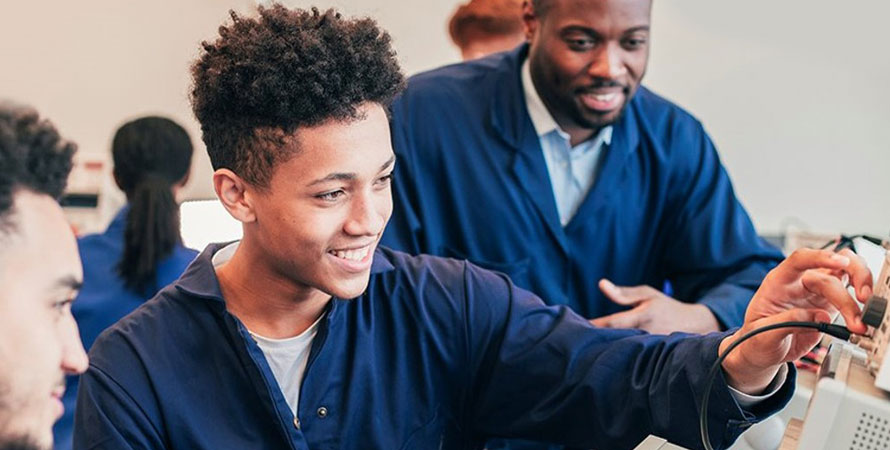 Brooklyn/Hicksville - National Grid is partnering with Bloc Power and New York Edge to launch a heat pump awareness training program for young people in New York City and on Long Island, helping bridge the opportunity gap, developing the clean energy workforce and advancing new and innovative technologies.
The Heat Pump 101 training program was developed in partnership with National Grid's Grid for Good initiative along with the New York State Energy Research and Development Authority (NYSERDA). Grid for Good provides skills, training, and employment opportunities for thousands of young people ages 16-25 in underserved communities by partnering with local community organizations like Bloc Power and New York Edge. More than 200 Grid for Good participants will benefit from the Heat Pump 101 awareness program.
"National Grid's Grid for Good initiative has brought together several great partners, NYSERDA, Bloc Power and New York Edge and together we are all committed to inspiring and attracting young people into workforce development training that will build a stronger community and a brighter future for young New Yorkers," said Melanie Littlejohn, Vice President of Community and Customer Engagement, National Grid. "It furthers our Net Zero commitment and supports the clean energy, sustainability and workforce development focus areas under our community commitment initiative "Project C."
"As we move forward with building New York's clean energy future, we must provide opportunities for New Yorkers – especially those who are just beginning their careers – to learn about and pursue high-demand, clean energy jobs of the future," said Doreen M. Harris, President and CEO of NYSERDA. "NYSERDA is thrilled to partner with National Grid, Bloc Power, NY Edge and Steven Winter Associates to offer this critical heat pump and workforce training to help ensure that all New Yorkers can benefit from a just transition to clean energy."
Bloc Power is a Brooklyn-based energy technology startup rapidly greening American cities. Since its founding in 2012, the company has completed energy projects in nearly 1,000 buildings and delivers results ahead of schedule and under budget. Bloc Power utilizes its proprietary software for analysis, leasing, project management, and monitoring of urban clean energy projects and its customers are saving 20-40 percent on their energy bills each year.
"BlocPower is excited to partner with National Grid to build the climate-tech workforce America needs to power the clean energy and building modernization revolution," said Keith Kinch, BlocPower Co-founder and General Manager.
The Heat Pump 101 introductory training program, developed by Steven Winter Associates, summarizes the benefits of heat pumps for electrification, incentives to switch to clean heating and cooling technologies, and the environmental impact of carbon emissions. Participants will receive an overview of heat pump components, system configurations and their applications. Participants will also learn how to recognize the signs of a quality installation of heat pumps. This will be the first of a series of programs launching as part of the workforce development initiative.
The training will also serve as a career tool to increase access to industry certification opportunities for advanced training that includes the Occupational Safety and Health Administration (OSHA), Energy Efficiency, Weatherization programs and Building Performance Institute (BPI) home energy certifications.
New York Edge is New York City's largest provider of on-site afterschool programs, serving thousands of K-12 students in more than 100 public schools. New York Edge is one of National Grid's charity partners with the Grid for Good initiative to provide tools, resources, and employment opportunities to help hundreds of students across the five boroughs pursue successful careers in the energy industry.
"We are grateful for the partnership with the Grid for Good initiative and our New York Edge participants will benefit from the Heat Pump training, which will provide them with additional options for career pathways," said Amir Sultan, New York Edge Program Manager.
About National Grid
National Grid (NYSE: NGG) is an electricity, natural gas, and clean energy delivery company serving more than 20 million people through our networks in New York and Massachusetts. National Grid is focused on building a smarter, stronger, cleaner energy future — transforming our networks with more reliable and resilient energy solutions to meet state climate goals and reduce greenhouse gas emissions.
Media Contacts
Related News