Auto Dealer Uses Make-Ready Program to Install EV Charging Stations
Jan 31, 2022 - 12:00 PM
Categories: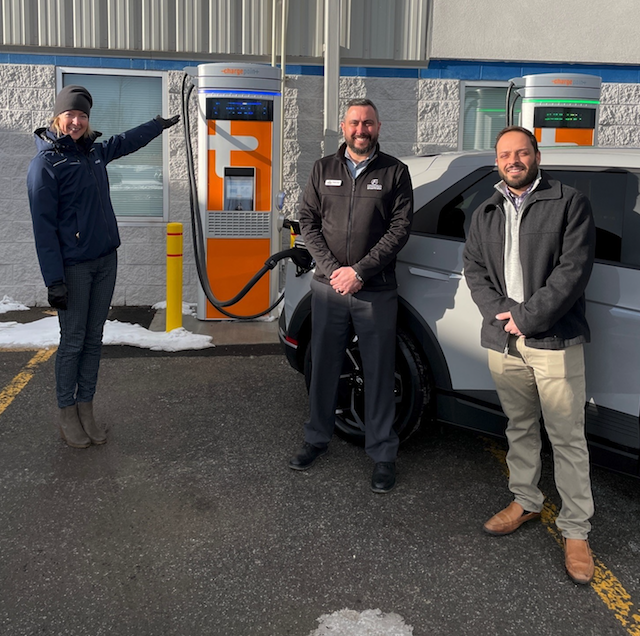 As more electric vehicles are hitting Western New York roads, Fuccillo Hyundai of Grand Island partnered with National Grid's Electric Vehicle (EV) Make-Ready Program to install five EV charging stations at its Grand Island dealership, located at 1910 Alvin Road.
Through the program, National Grid covered more than 80% of the infrastructure costs to install the stations, which include two fast-charging stations with a combined output of 125 kilowatts, the most powerful EV charging station output on Grand Island. This means quicker charging times for EV drivers. All five stations are currently available to the public free of charge.
"Thanks to National Grid's EV Make-Ready Program, the EV charging stations were able to come online just in time for us to receive inventory of the 2022 Hyundai IONIQ 5 Plugin," said Russell Tabone, top middle, who is general manager, Fuccillo Hyundai. "We've been receiving calls both locally and from across the country for a chance to purchase the IONIQ 5, which charges in only 20 minutes."
"We are excited for the opportunity to invest in the community. In addition to making our EV charging stations available for Fuccillo customers, our goal is also to serve as a destination for motorists who want to charge their vehicles," added Tabone. "In just the past several weeks, both residents and Canadian motorists have taken advantage of the free charging opportunity."
National Grid's EV charging program is available for businesses, multi-unit residential buildings and retail stores, as well as parks and vacation destinations. The company also offers a program for businesses looking to electrify their fleets, which can reduce greenhouse gas emissions, improve air quality, and help to meet National Grid's decarbonization goals.
Whitney Skeans, top left, is senior program manager of National Grid's EV Make-Ready Program. She said that collaborations with customers like Fuccillo Hyundai are central to National Grid's Project C commitment, which was created to inspire change and create a more equitable future. With new EVs hitting the marketplace, she also sees a timely opportunity for all Western New York auto dealerships to take advantage of the EV incentives as they prepare to receive and sell new inventory.
"No matter what your business, installing EV charging stations can create more customer traffic for your sales, convenience for your workplace, and sustainability leadership within the communities where you live and play," said Skeans. "National Grid's programs include incentives for business customers who are future-focused, not only supporting a new segment of EV drivers but also maximizing value from the clean energy initiatives that will get us there. Partnerships with customers like Fuccillo help reduce our greenhouse gas emissions and support New York State's goal of having all new passenger cars and light-duty trucks sales be zero-emission models by 2035."

In 2021, National Grid invested $4.1 million to install 756 charging ports in upstate New York. This work is part of the company's $143 million commitment to install 16,000 charging ports across New York by 2025, which supports the state's goal of having 850,000 electric vehicles on the road by that year.

Pure Performance Renewable (PPR) Energy Solutions, Western New York-based licensed electrical contractor that specializes in the design, development, and construction of EV charging station projects, conducted the installation of the five EV charging stations - like the one below - at Fuccillo Hyundai.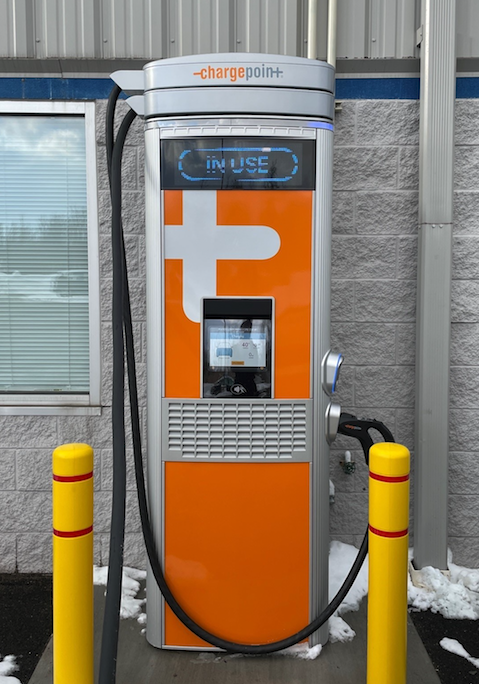 "Investing in EV charging stations is a way for businesses to future proof their parking lots," said Mike Prinzi, top right and President, PPR Energy Solutions. "With the demand for electric vehicles increasing, motorists are going to more places throughout our community where they can charge up. By partnering with National Grid's EV Make-Ready Program, Fuccillo Hyundai was responsible for only 20% of the installation costs for their new charging stations."
National Grid representatives will be available at the Buffalo Auto Show, Feb. 3 to Feb. 6 at the Buffalo Niagara Convention Center to share more details about the EV Make-Ready Program.
About National Grid
About National Grid: National Grid (NYSE: NGG) is an electricity, natural gas, and clean energy delivery company serving more than 20 million people through our networks in New York, Massachusetts, and Rhode Island. National Grid is transforming our electricity and natural gas networks with smarter, cleaner, and more resilient energy solutions to meet the goal of reducing greenhouse gas emissions.
For more information, please visit our website, follow us on Twitter, watch us on YouTube, friend us on Facebook, and find our photos on Instagram.
Media Contacts
Related News