National Grid Supports Albany Distilling's Relocation in City
Apr 04, 2022 - 1:00 PM
Categories: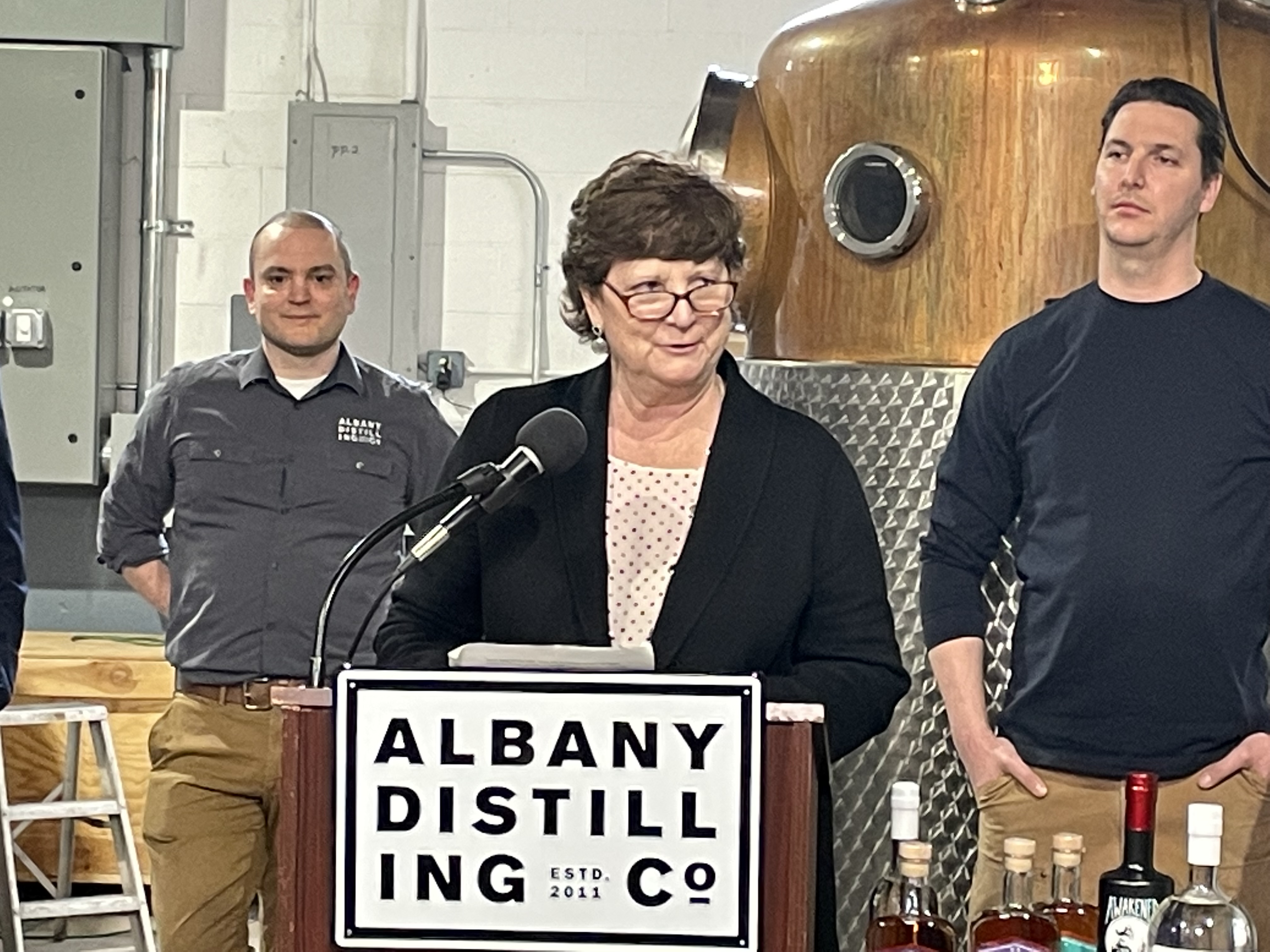 Energy has a big part to play in the development of local business. So, to help prepare for even more robust growth, National Grid has awarded the Albany Distilling Company nearly $100,000 in economic development and manufacturing productivity grants over the years to help the company expand manufacturing operations and its tasting room.
Founded in 2011, the Albany Distilling Company was the city's first licensed distillery since the beginning of prohibition. As its products garnered local and national followings, the beverage manufacturer routinely saw annual revenues exceed their expectations. The company has repeatedly leveraged National Grid programs as well as technical services provided by the Center for Economic Growth (CEG) to support the expansion of its business.
National Grid's most recent grant is for demolition and construction at 718 Third Street, in Albany's West Hill neighborhood, which replaces Albany Distilling's original headquarters at 78 Montgomery Street. in downtown Albany. Over the years, as Albany Distilling has grown, National Grid has awarded grants that have enabled CEG to provide training services relating to leadership, customer-reinforcement selling, exports, lean accounting and corporate accountability. National Grid has also awarded funding to support the development of Albany Distilling's tasting room at 48 Montgomery St.
In 2021, Albany Distilling co-owners Rick Sicari and John Curtin worked with CEG, NYS Department of Labor, SUNY Schenectady and other local companies to develop the Brewer/Distiller registered apprenticeship trade outline. The program creates a standardized training model for people entering the field of brewing and distilling with on-the-job training, classroom related instruction to teach apprentices about safety, sanitation, filtration, packaging, quality control, maintenance, and beer and spirit production.
"Albany Distilling has been manufacturing here in the Capital Region for more than a decade, but we couldn't have done it without help," said John Curtin, president, the Albany Distilling Company. "This is a perfect example of how important it is to have organizations committed to helping businesses grow. The funding support from National Grid and the Center for Economic Growth has allowed our company to expand and streamline operations within our new facility at 718 Third Street and continue to produce our award-winning spirits. This critical source of funding helped make our vision to bring all aspects of our operations – from our offices, distillation equipment, bottling, and storage – under one roof for the first time in our company's history."
CEG President and CEO Mark Eagan said, "Albany Distilling's expansion is impressive. I commend them for leveraging funding and technical support through National Grid and the Center for Economic Growth. Through its strong and steady rise, Albany Distilling has utilized a variety of CEG programs and services that were funded by National Grid to increase sales, improve accounting processes, and reach new markets. We've also assisted the distiller with purchasing new equipment through Workforce Development Institute funding and apprenticeships through Department of Labor and SUNY funding. When you combine all these programs, you get a strong manufacturer with deep roots and something to which we all can say cheers."
National Grid supports many businesses across upstate New York with its extensive economic development programs.
"Local companies like Albany Distilling are so important to the communities we serve and we're proud to be able to provide them with the assistance they need to allow for growth," said Laurie Poltynski, National Grid's regional executive. "Working with CEG is a natural way for us to jointly fund and promote this growth. These programs support business attraction and expansion projects in National Grid's Upstate New York service area."
Albany Distilling Company commenced operations in July 2012 with its first whiskey product. The company started with a bourbon mash, releasing it first as a new make and eventually as a three-month-old bourbon. The next product was an unaged rum inspired by the company's proximity to Albany's original 18th century distillery and followed a recipe from that era. Over the next several years, Albany Distilling Company has expanded offerings to include more whiskeys and a range of spirits, including products created in collaboration with other small local businesses such as Nine Pin Ciderworks and Death Wish Coffee.
-###-
About National Grid: National Grid (NYSE: NGG) is an electricity, natural gas, and clean energy delivery company serving more than 20 million people through our networks in New York, Massachusetts, and Rhode Island. National Grid is transforming our electricity and natural gas networks with smarter, cleaner, and more resilient energy solutions to meet the goal of reducing greenhouse gas emissions. For more information, please visit our website, follow us on Twitter, watch us on YouTube, friend us on Facebook, and find our photos on Instagram.
About the MEP Center: The Center for Economic Growth (CEG) is dedicated to driving economic growth in New York's eight-county, 1.1-million-person Capital Region. As the nonprofit regional economic development organization, we do this by attracting investment and talent; growing manufacturing and workforce capabilities, leveraging industry clusters, and developing the entrepreneurial ecosystem. We serve as a catalyst and work with partners and stakeholders to prepare the region to compete and move high-impact strategies and projects forward. An affiliate of the Capital Region Chamber, CEG is supported by investors in business, government, education, and the nonprofit sectors who are committed to sustainable economic growth and shared prosperity. For more information on CEG, visit www.ceg.org.
About Albany Distilling Company: The Albany Distilling Company, Inc. ("ADCo") is the first licensed distillery in Albany, N.Y. since the beginning of Prohibition. ADCo's owners are passionate for craft distilling and proud to celebrate Albany's history through their craft. Visit: www.AlbanyDistilling.com
Additional Quotes
"Congratulations to John, Rick, and the entire team at Albany Distilling on the opening of their new production facility and headquarters in our city's West Hill neighborhood. From their distilled spirits products to their bar and bottle shop in downtown, Albany Distilling's investments in our city continue to exemplify the commitment of the craft beverage industry has in our region." – Albany Mayor Kathy M. Sheehan
"Albany Distilling has been a steadfast partner to Albany County over the years, having helped supply our residents with hand sanitizer during the early stages of the COVID pandemic. As we look forward to the future, we must find innovative ways to support local businesses to ensure they are able to create more jobs and build on our economic recovery. I'm excited to see this partnership between CEG and National Grid that will help this company, that is part of the fabric of our community, to grow and thrive." – Albany County Executive Daniel P. McCoy
"The Albany Distilling Company has become an important part of the fabric of our community as well as an economic driver. This collaboration between National Grid and Albany Distilling will help to foster an environment for continued growth for years to come." – Senator Neil D. Breslin
"As a champion of New York's and the Capital Region's small businesses, I am thrilled to see this type of partnership supporting Albany Distilling Company and their workforce on behalf of National Grid. Albany Distilling Co. continues to grow, hire more workers, and contribute to our local economy and surrounding communities. Kudos to both National Grid and Albany Distilling Company for their ongoing investment in the success of our region," – Assemblymember Patricia Fahy
"Small businesses like Albany Distilling Company are the backbone of our economy and job creators for our region. National Grid's Workforce Development Grant and their partnership with the Center for Economic Growth will allow Albany Distilling Company to focus on future growth that will create a path for long-term success. Thank you to National Grid and CEG for their continued support of our small business." – Assemblymember John T. McDonald III RPh
Media Contacts
Related News