National Grid Reminds Customers to Call 811 Before Digging
Aug 10, 2022 - 9:00 AM
Categories: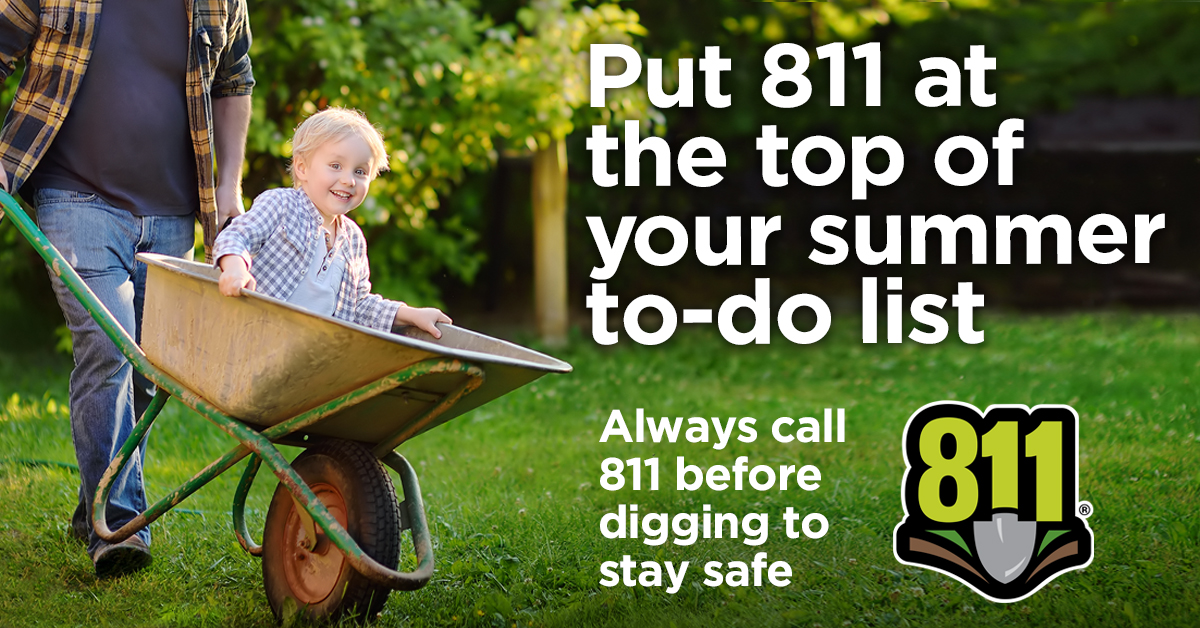 WALTHAM, MA – Nationally, every nine minutes an underground utility line is damaged because someone did not contact 811 before digging. August 11 marks National 811 Safe Digging Day. To mark the occasion, National Grid is reminding customers and contractors nationwide to call 811 before starting any digging or excavation project (no matter how big or small) to have underground utility lines properly marked. Dig Safe ® is a free service, funded solely by its utility members to promote public safety and avoid costly underground utility damage.
Knowing where underground utility lines are buried before you dig will help protect you and your family. Striking a single underground utility line can cause injury, repair costs, fines, and inconvenient outages. National Grid remains committed to keeping the public safe by emphasizing the importance of calling 811 to avoid damages or service outages in your local community.
"Whether you're planting a tree or shrub, or installing a deck or pool, every job requires a call to 811 to know what's below before digging," said Mark Prewitt, Vice President of Pipeline Safety & Gas Compliance at National Grid. "The depth of utility lines can vary for several reasons, such as erosion, previous digging projects, and uneven surfaces. Utility lines need to be properly marked in each location, even one that's previously been marked, to avoid risk. A call to 811 is the best safeguard to preventing strikes on underground utility lines."
A quick phone call to 811 several days before digging connects callers to their local call center, which notifies the appropriate utility companies of their intent to dig. Professional locators then arrive at the digging site to mark the approximate locations of underground lines with flags, spray paint, or both. The service is easy to use, free of charge and is required by law.
Calling 811 before digging is easy, free, and is the law.
State laws mandate that 811 must be contacted 72 hours in advance of beginning projects that require excavation, excluding weekends and legal holidays. Additionally, the parties requesting to dig must mark the requested areas of excavation. Failure to call 811 may be punishable by fines, which in some states can be as high as $1,000 for a first offense and $10,000 for subsequent offenses. Calling 811 can also help avoid an incident that requires police and fire response. National Grid works closely with local fire and police departments, and with their strong support, people are calling before they dig.
To help further promote awareness of safe digging, National Grid has created an educational video, which can be accessed by clicking here.
About National Grid
National Grid (NYSE: NGG) is an electricity, natural gas, and clean energy delivery company serving more than 20 million people through our networks in New York and Massachusetts. National Grid is focused on building a path to a more affordable, reliable clean energy future through our
fossil-free vision
. National Grid is transforming our electricity and natural gas networks with smarter, cleaner, and more resilient energy solutions to meet the goal of reducing greenhouse gas emissions.
Media Contacts
Related News