Community Offshore Wind Invests Over $100,000 into STEM and Environmental Programs for NY Youth
Mar 06, 2023 - 10:00 AM
Categories: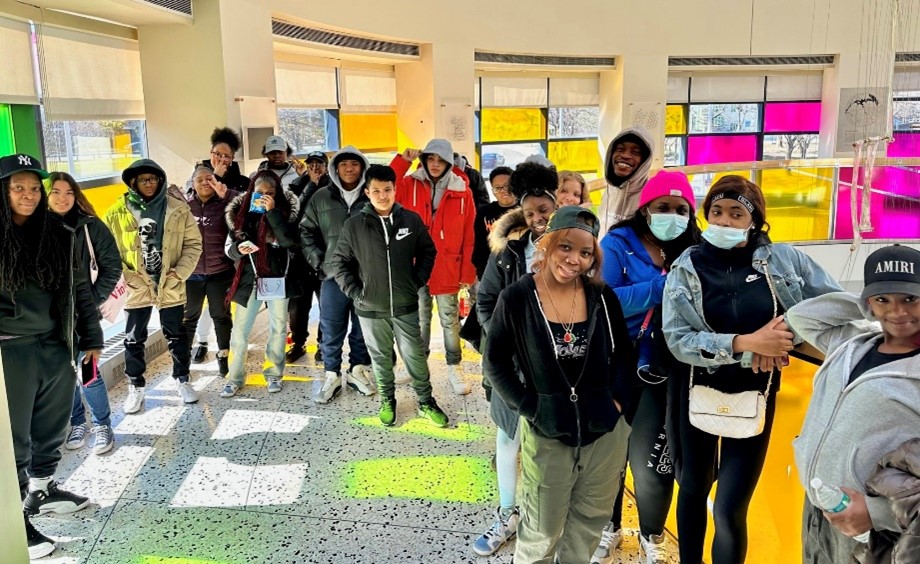 Key Highlights
Community Offshore Wind creates over 10 new partnerships increasing youth access to STEM education to foster future careers in the renewable energy industry.
March 6, 2023 – New York, NY – One month after submitting a proposal to provide New York State with clean energy and record economic investment from offshore wind, Community Offshore Wind, a joint venture between RWE Renewables and National Grid, is investing over $100,000 into STEM and environmental education programs to prepare the offshore wind workforce of the future. Community Offshore Wind is working with multiple community partners in downstate New York to provide access to museums, outdoor spaces, and environmental and marine education for hands-on learning experiences.
"Alongside our community partners, we have organized a suite of programs that will allow us to provide environmental and STEM education to New York youth, which is critical for equipping students with what they need for future careers in offshore wind," said Pat Johnson, Vice President and Deputy Project Director, Community Offshore Wind. "As we await a decision on our New York offshore wind proposal, it's important for us to continue to make positive changes in the state. Community Offshore Wind has been committed to New York communities as a joint venture for the better part of a year and long before that under our parent companies."
During Engineers Week, Community Offshore Wind sent 75 students from communities in downstate New York to the Brooklyn Children's Museum, Long Island Children's Museum, and New York Hall of Science. Participating students hail from the Red Hook Initiative, Good Shepherd Services at the Joseph Miccio Community Center, and the Long Beach Martin Luther King Center.
"Thanks to Community Offshore Wind, youth in Brooklyn, New York spent time at our city's great museums during Engineers Week," said William Suarez, Partnerships Manager of Red Hook Initiative (RHI). "Some of the students were able to explore a museum in their backyards for the first time. RHI high school and middle school participants were able to go to the New York Hall of Science, for example. We hope this kind of educational enrichment is an experience that will inspire youth and set them up for success."
In partnership with Citizens Campaign for the Environment (CCE), Uniondale High School students in 11th and 12th grade will embark on interactive boat excursions on the Western Bays around Long Island to learn about climate change and renewables. Additionally, students will connect to climate-related summer internships as part of the program.
"We are delighted to work with the faculty and students at Uniondale High School. They have many concerns and questions regarding the impacts of climate change and have expressed a strong interest in learning about ways they can mitigate those impacts," said Adrienne Esposito, Executive Director of Citizens Campaign for the Environment. "Through Community Offshore Wind's support, we can provide classroom education and field trips for 11th and 12th graders to get them out on the water to experience and learn about climate impacts on our marine environment. CCE will also help these students find internships in climate-related fields. Many of these students want to work in renewables and this experience will help expose them to possible careers in offshore wind."
Over 400 second and third grade Uniondale students will be offered a field trip that provides marine and environmental education on a boat sponsored by Community Offshore Wind with Operation Splash.
"Giving students a chance to learn about ocean conservation through real-life, hands-on experience is the key to helping them understand the importance of protecting our local bays and environment as a whole," said Robert Weltner, President of Operation SPLASH. "They see the issues we face first-hand when we bring them out on the water, and the connections they make become much deeper. Community Offshore Wind and Operation SPLASH share in the goal of providing marine and environmental education to younger generations. Through their generous support, these field trips for Uniondale students are possible."
The Cradle of Aviation Museum and Education Center on Long Island, in partnership with Community Offshore Wind, will host the Kidwind Competition for over 300 students throughout Long Island. This competition will challenge participants to build and test wind turbines while teaching students about renewable energy, engineering principles, and teamwork. The competition aims to inspire youth to pursue careers in science, technology, engineering, and math (STEM).
"We are thrilled to host our first Kidwind competition at the Cradle of Aviation Museum in nearly three years," said Kerri Mackay, Education Competition Coordinator at the Cradle of Aviation Museum. "Community Offshore Wind's support will make this competition possible and inspire students to explore the potential of sustainable energy sources."
The series of programming will continue through the rest of the 2023 calendar year.
For more information, please visit www.communityoffshorewind.com.
About Community Offshore Wind
RWE
and
National Grid
, will bring clean energy to the Northeastern US in a joint venture called
Community Offshore Wind
. They will develop offshore wind on the largest parcel in the New York Bight with the potential to host 3 gigawatts (GW) of capacity, which is enough to power more than one million US homes and businesses. The project is expected to be in operation by the end of 2030. Community Offshore Wind is dedicated to investing in communities by bringing clean energy jobs to the region and growing the local economy. They will deliver sustainable energy safely, reliably, and efficiently to the communities they serve.
About RWE Renewables
RWE
is leading the way to a green energy world. With an extensive investment and growth strategy, the company will expand its powerful, green generation capacity to 50 gigawatts internationally by 2030. RWE is investing more than 50 billion gross for this purpose in this decade. The portfolio is based on offshore wind and onshore wind, solar, hydrogen, batteries, biomass and gas. RWE Supply & Trading provides tailored energy solutions for large customers. RWE has locations in the attractive markets of Europe, North America and the Asia-Pacific region. The company is responsibly phasing out nuclear energy and coal. Government-mandated phaseout roadmaps have been defined for both of these energy sources. RWE employs around 19,000 people worldwide and has a clear target: to get to net zero by 2040. On its way there, the company has set itself ambitious targets for all activities that cause greenhouse gas emissions. The Science Based Targets initiative has confirmed that these emission reduction targets are in line with the Paris Agreement. Very much in the spirit of the company's purpose: Our energy for a sustainable life.
About National Grid Ventures
National Grid is an electricity, natural gas, and clean energy delivery company serving more than 20 million people throughout our networks in New York and Massachusetts. National Grid is focused on building a path to a more affordable, reliable clean energy future through our fossil-free vision.
National Grid Ventures (NGV) is the non-regulated division of National Grid plc, one of the largest investor-owned energy companies in the world. NGV operates outside of National Grid's core regulated businesses in the US and UK where it develops, operates and invests in energy projects, technologies and partnerships to accelerate the development of a clean energy future. NGV's diverse portfolio of low carbon and renewable energy businesses across the UK, Europe and US includes subsea electricity interconnectors, wind and solar power, and battery storage. For more information, visit
https://www.nationalgrid.com/national-grid-ventures.
Media Contacts
Related News