National Grid Launches Multi-Pronged Workforce Development and Scholarship Program to Increase Diversity of its Massachusetts Labor Force
Apr 26, 2023 - 10:00 AM
Categories: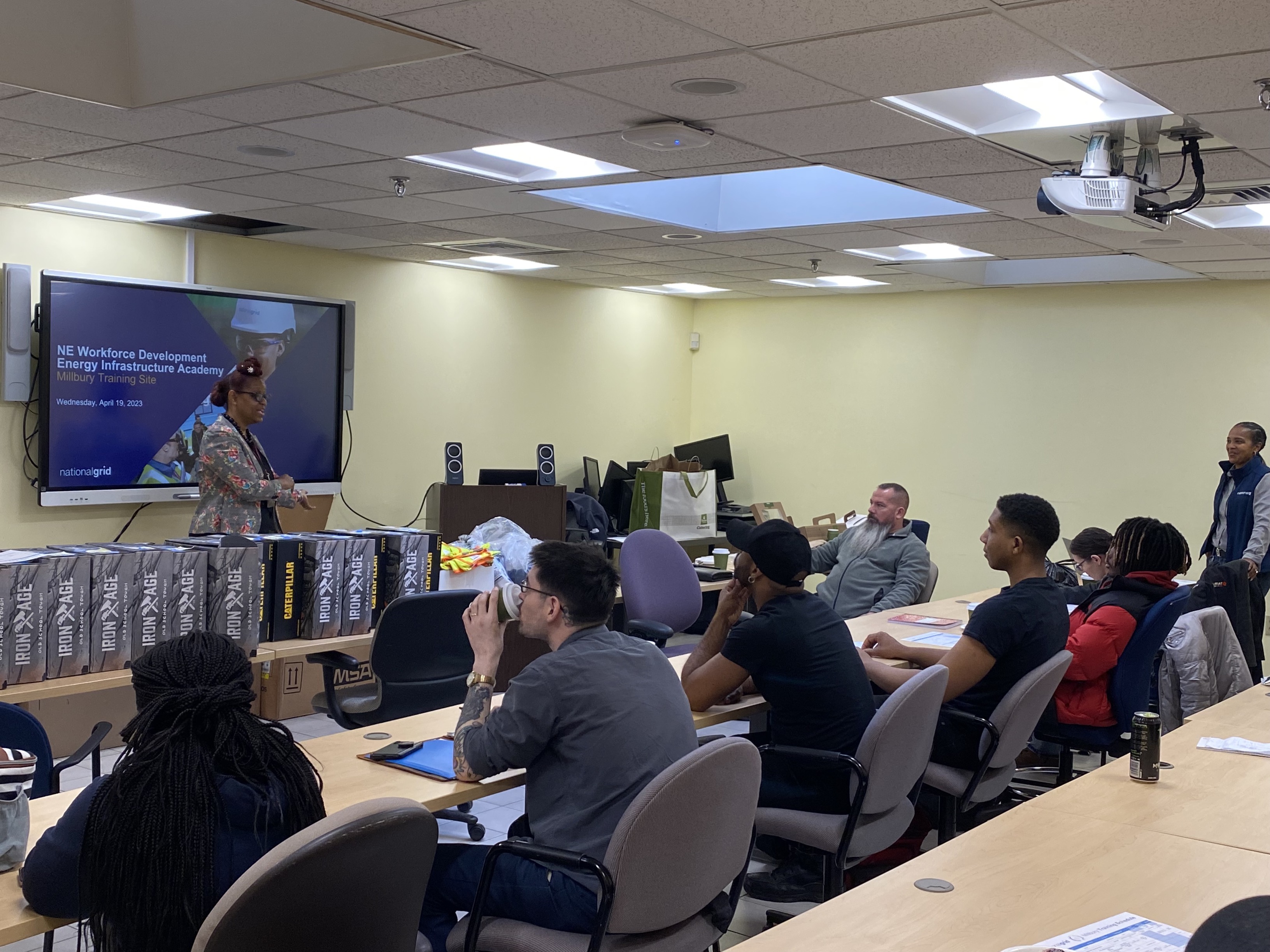 WALTHAM, MA - National Grid today announced the launch of a wide-ranging strategic workforce development effort intended to provide individuals from historically underrepresented and marginalized communities career exposure, development, and employment opportunities for everyone from work-ready adults to STEM-oriented middle school students.
The long-term partnership is part of a plan to build the clean energy workforce of the future while ensuring that over the long haul, the workforce reflects the communities National Grid serves across Massachusetts.
As part of this effort, National Grid introduced a Clean Energy Scholars Scholarship in which the Company is providing $300,000 to three Boston-area universities in the first year. Franklin Cummings Tech, Northeastern University, and the University of Massachusetts at Boston, all strategic partners, will each receive $100,000 to be awarded to qualifying students pursuing Engineering or Craft and Trades-related degrees.
A 2021 survey by the National Association of State Energy Officials (NASEO) showed that the US energy sector had a below-average representation of Black, Hispanic, Latino, and women workers. National Grid is committed to doing its part in addressing this nationwide issue. In addition, the utility industry has an aging population, with roughly half of utility employees within ten years of retirement age.
The workforce development program features four academies, including the Energy Infrastructure Academy for work-ready adults, the Clean Energy Careers Academy for college students, the Clean Energy Tech Academy for students in traditional and vocational technical high schools, and the Clean Energy STEM Academy for middle school students.
"National Grid is committed to delivering a safe, clean, fair, and affordable energy future, and having a diverse, inclusive workforce is a vital part of that vision," said Stephen Woerner, President of National Grid, New England. "As we build our workforce, we seek to hire and retain diverse talent to ensure we meet the needs of our customers and communities. We want to provide career pathways for people in our communities. At National Grid, we know a workforce that represents people from different backgrounds and perspectives benefits the whole Company and the communities we serve."
The goal of the Workforce Development strategy is to build a sustainable, systematic pipeline of diverse talent to lead the energy transition and enable that workforce to build and operate a net-zero system. The four-pronged workforce development program reaches out to a variety of audiences:
Energy Infrastructure Academy
The Energy Infrastructure Academy prepares work-ready adults for entry-level to mid-level roles within National Grid's unionized workforce. National Grid has partnered with Franklin Cummings Tech, Training Resources of America, Inc., Community Work Services, and STRIVE Boston to provide professional training for people interested in working in the energy industry. This academy, which launched in March 2023, holds classes in Boston and Worcester and provides nearly 200 hours of instruction to develop a combination of technical skills, soft skills, three weeks of hands-on job experience with National Grid employees, networking, mentorship, and more in preparation for full-time union role opportunities with earn-while-you-learn on-the-job training.
Participants learn about and are trained in National Grid's electric and gas operations and project planning and construction. Participants who successfully complete the academy are encouraged to apply for full-time positions within the Company.
"Connecting our HVAC&R Technology, Electrical Engineering, Engineering Technology, and Computer Information Technology students with professional mentors from National Grid will help the students gain valuable knowledge about their chosen fields and build workforce development skills. This kind of partnership ties directly to our mission at Franklin Cummings Tech, which is to deliver transformative technical and trade education that leads to economic advancement," said Jackie Cornog, Dean of Students at Franklin Cummings Tech.
Clean Energy Careers Academy
College students at Northeastern, Franklin Cummings Tech, and UMass-Boston participate in this academy in which National Grid mentors and others engage students about the energy and utilities field, provide professional development opportunities, and create connections that can lead to future internships, co-ops, and full-time employment within National Grid.
Also, as part of this long-term partnership, the Company announced a $300,000 Clean Energy Scholars Scholarship to support and encourage more students from historically underrepresented and marginalized communities to pursue and persist in obtaining Engineering and Craft and Trades-related degrees. Each partner is receiving $100,000 in the first year of the partnership, with scholarship funds to continue for the duration of the partnership. Students can apply for the scholarship through their respective institutions.
"This new partnership is beneficial on many fronts. It helps National Grid build a workforce more reflective of the communities it serves; it provides Northeastern students access to new career and educational opportunities; and it adds to the university's extensive collection of programs supporting students from historically underrepresented and marginalized communities," said Dr. Gregory Abowd, Dean, College of Engineering, Northeastern University. "If all that weren't enough, it helps enable the future of clean energy. We're proud to be a part of it."
"We could not be more excited about our partnership with National Grid. As the most diverse university in New England and the third most diverse in the country - justice, equity, diversity, and inclusion work is part of our DNA; it's purposefully at the core of everything we do to educate our students and prepare them for successful livelihoods," said Dr. Joseph Berger, Provost and Vice Chancellor, Academic Affairs, University of Massachusetts - Boston. "And with over 80 percent of our students remaining in state, broadening local pathways for meaningful career opportunities is particularly important. We are grateful to have National Grid as an outstanding partner in this new initiative."
Clean Energy Tech Academy
For students in high school and vocational technical schools, this academy enables students to explore energy field careers and topics and learn about career industry opportunities. The tech academies are being conducted at the Boston Green Academy, Dearborn STEM Academy, and Madison Park Vocational Technical High School, all of which are in Boston, and the Worcester Vocational Technical High School in Worcester. Students who successfully complete the academy will receive a certificate from the Clean Energy Tech Academy and career pathway experiences from mentors at National Grid.
Clean Energy STEM Academy
National Grid mentors will introduce middle-school-age students to the energy industry and provide hands-on activities in Science, Technology, Engineering, and Mathematics (STEM) education and its benefits.
Boston Green Academy, Dearborn STEM Academy in Roxbury, and Forest Grove Middle School in Worcester are program partners. Students who successfully complete the program will receive a certificate from the Clean Energy STEM Academy.
About National Grid
National Grid (NYSE: NGG) is an electricity, natural gas, and clean energy delivery company serving more than 20 million people through our networks in New York and Massachusetts. National Grid is focused on building a path to a more affordable, reliable clean energy future through our
fossil-free vision
. National Grid is transforming our electricity and natural gas networks with smarter, cleaner, and more resilient energy solutions to meet the goal of reducing greenhouse gas emissions.
Media Contacts
Related News