National Grid Helping Train Electric Workers of the Future with Hudson Valley Community College
Jun 07, 2023 - 4:30 PM
Categories: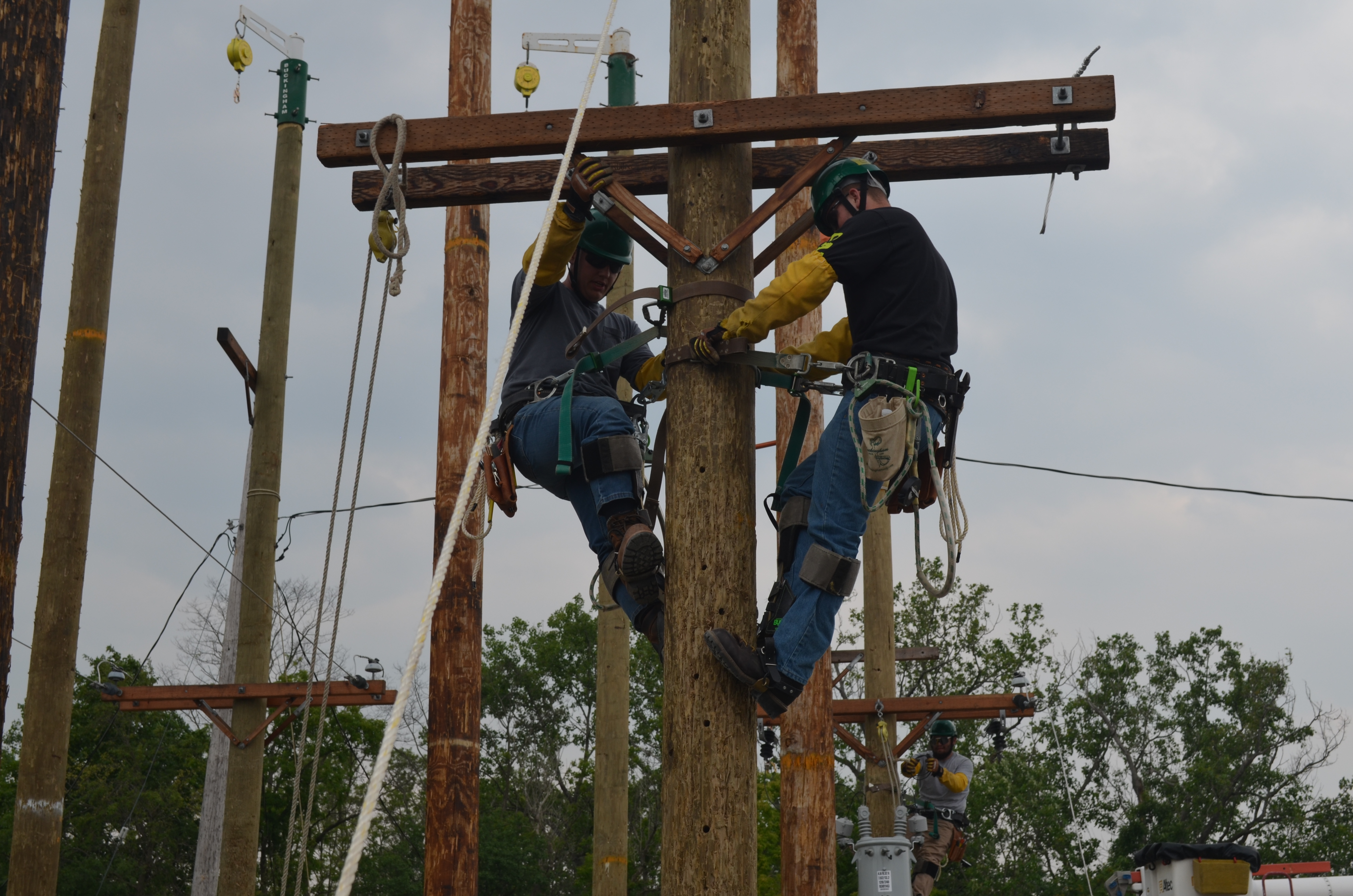 National Grid is on the front line of electrification efforts across New York State, supporting the State's energy goals and creating a sustainable future for all. In order to achieve these goals, skilled electric workers will be in high demand and National Grid is working with partners in the Greater Capital Region to attract potential employees and train them to build and maintain the energy system of the future.
As part of National Grid New York President Rudy Wynter's tour across New York State this week, he stopped at the company's Schenectady Training Center to see students from Hudson Valley Community College's Line Worker Certification program complete their training, climbing poles and learning about the electric system with a hands-on approach.
"We have partnered with HVCC for more than 15 years to hire graduates of their training programs for good-paying jobs in the energy industry," said National Grid New York President Rudy Wynter. "To accomplish our climate goals and achieve widespread electrification, we will need more trained electrical workers, and we're investing in that next generation workforce. In addition to recruiting new employees, we are also investing in fully paid retraining programs for our existing workforce of over 4,000 highly skilled union workers to prepare them for new roles in the clean energy economy."
HVCC offers several electric programs to help students be prepared for potential employment in the energy sector. National Grid has been a long-time supporter of these programs.
"Hudson Valley Community College is proud to partner with National Grid to educate the workforce of the Capital Region and New York State. For more than 15 years, we have worked together to train electricians and overhead electrical line workers to install, maintain and repair the region's power grid. The college's Electrical Construction and Maintenance associate degree program and the Overhead Line Worker certificate program are among our most popular academic offerings due to the high wages and exceptional employment opportunities offered by National Grid and other employers," said Roger Ramsammy, president of Hudson Valley Community College.
Dr. Chris McNally, Department Chair, Applied Technologies at Hudson Valley Community College said, "As our state quickly moves toward an electrified economy, the relationship between National Grid and Hudson Valley will become more crucial. Growing technologies, such as wind power, electric vehicles and ground-source geothermal systems, are driving the continuous advancement of existing educational programs and the development of new areas of study to properly prepare New York's workforce for the future."
The New York State Climate Action Council's recent scoping plan estimates that the demand for electricity in the state will more than double by 2050. National Grid is investing in renewable generation, transmission, and storage projects to supply plentiful, clean energy for all New Yorkers.
The partnership with HVCC is part of several investments through National Grid's Workforce Development Program, helping to build a better, more prepared workforce to enable the growth of the clean energy industry. To create equitable change for workers, National Grid helps enable sufficient training and hands-on experience. As clean energy grows to become one of the biggest industries for employment, National Grid is increasing these workforce development opportunities to train the new clean energy workforce and equip individuals with the skills they need to succeed. The Workforce Development programs provide young people opportunities to learn about STEM occupations to give them the pathway toward a brighter future.
About National Grid
National Grid (NYSE: NGG) is an electricity, natural gas, and clean energy delivery company serving more than 20 million people through our networks in New York and Massachusetts. National Grid is focused on building a smarter, stronger, cleaner energy future — transforming our networks with more reliable and resilient energy solutions to meet state climate goals and reduce greenhouse gas emissions.
Media Contacts
Related News