Electrifying Fleets of the Future
Sep 23, 2023 - 1:00 PM
Categories: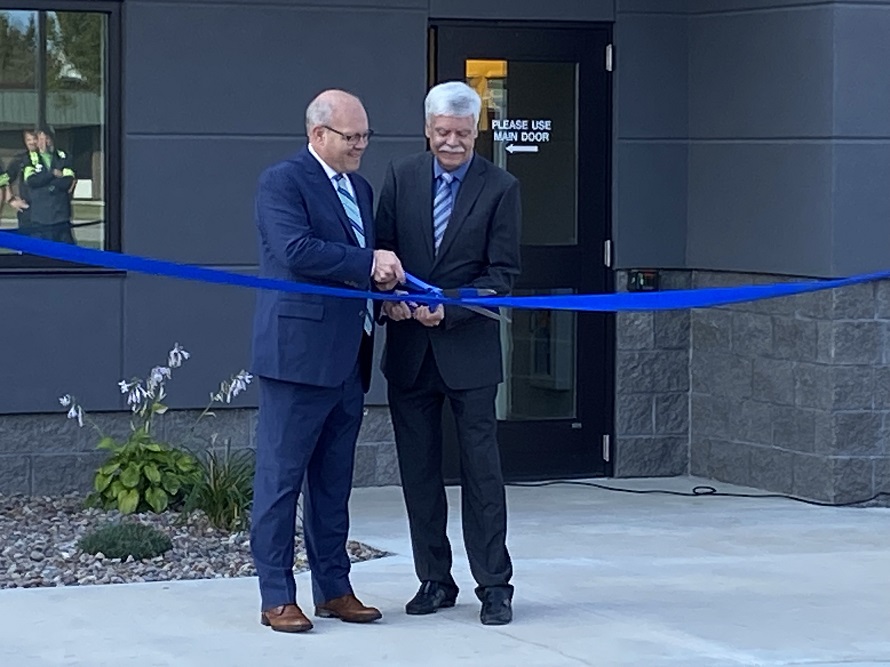 For New York Bus Sales' new $4.5 million, 20,000-square-foot Batavia facility, National Grid assisted with the installation of charging stations and technology through the company's Electric Vehicle (EV) Make-Ready Program, which provides funding for up to 100% of the electric infrastructure costs for approved projects.
On Sept. 22, New York Bus Sales welcomed more than 150 people as the company officially opened its doors on the newly-constructed mixed-use facility that will convert bus fleets from school districts across the state from diesel fuel to all-electric, a requirement per New York's Climate Leadership and Community Protection Act (CLCPA).
"Our Make-Ready Program provides a range of technical assistance and funding for electric vehicle charging projects across our upstate New York service territory," said National Grid Regional Director Ken Kujawa. "Working with New York Bus Sales is a great example of a company making a commitment toward innovation and sustainability while reducing greenhouse gas emissions while supporting New York State's climate emission mandates."
"Our new location in Genesee County allows us to serve the Western New York and Finger Lakes school districts as we work together with New York State to deliver clean energy solutions to local students and families," said John Johnston, Operations Manager of Chittenango-based New York Bus Sales, the largest Blue Bird school bus dealer in the state.
"We're proud to have worked with New York Bus Sales and to have provided – through our E-V make-ready program – technical assistance and funding for the E-V charging stations located here," said National Grid Jurisdiction Manager Paul Gister, top right, who partook in a ceremonial ribbon cutting with New York Bus Sales President Sean Finnerty , at left, that kicked off the Sept. 22 event. "It's New York Bus Sales' pioneering work that sets a great example as an innovator and sustainability leader to reduce greenhouse gas emissions and support New York State's energy goals.
From left, National Grid's Paul Gister is joined by John Johnston and Sean Finnerty
during the grand opening ceremony for New York Bus Sales' new Batavia facility.
About National Grid
National Grid (NYSE: NGG) is an electricity, natural gas, and clean energy delivery company serving more than 20 million people through our networks in New York and Massachusetts. National Grid is focused on building a smarter, stronger, cleaner energy future — transforming our networks with more reliable and resilient energy solutions to meet state climate goals and reduce greenhouse gas emissions.
Media Contacts
Related News