A Makeover for Watertown's Public Square
Jul 28, 2022 - 1:15 PM
Categories: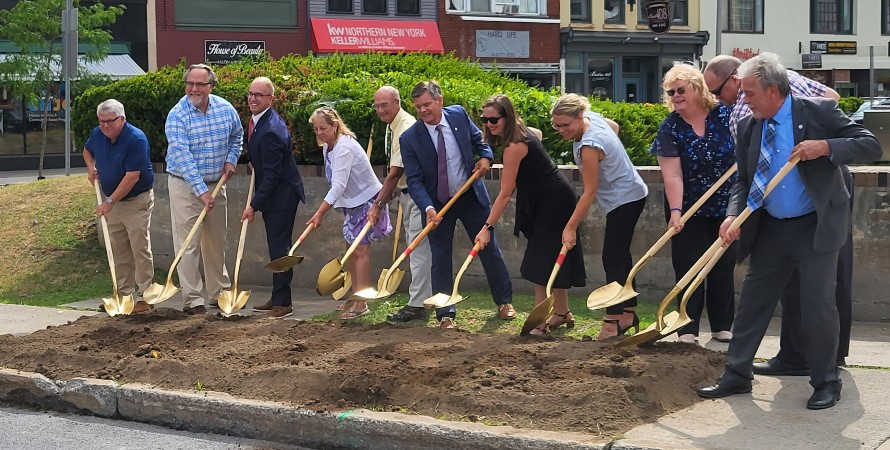 Local dignitaries break ground on the Watertown streetside improvement project at Lachenauer Plaza in July. Pictured are: John Condino, Barton & Loguidice; Alberto Bianchetti, National Grid; New York State Assemblyman Mark Walczyk; Cindy Lachenauer; Ted Lachenauer; Mayor Jeffrey M. Smith, City of Watertown; Sarah V.C. Pierce, Watertown City Councilor; Kylie Peck, New York State Department of State; Lisa A. Ruggiero, Watertown City Councilor; Ken Bibbins, New York State Department of Transportation; and Clifford Olney III, Watertown City Councilor. Cindy and Ted Lachenauer are the children of the late William G. Lachenauer, Watertown's mayor from 1956 to 1963.
A long-awaited streetscape improvement project in Watertown's Public Square is underway thanks, in part, to an economic development grant from National Grid.
"The streetscape renewal project is the first stage of a larger project to revitalize the area in and around the Public Square," said Alberto Bianchetti, National Grid's regional director of customer and community engagement. "This investment strengthens the magnet that draws new business to this historic area of the city while instilling a sense of civic pride among the residents and businesses of Watertown."
Ground was broken on the $3.6 million streetscape project in July and construction is projected to take one year. Improvements are focused at making the area more pedestrian-friendly to improve walkability and connections to civic, cultural, entertainment and retail assets in the city. These include wider sidewalks, enhanced crosswalks, new lighting and planning of new trees. Lachenauer Plaza will undergo significant renovation, including the removal of overgrown shrubs surrounding it.
National Grid provided a $250,000 Urban Center/Commercial District Revitalization grant to support the project. Leading up to this project, the company has provided $600,000 in Main Street Revitalization program grants to six different projects in the Public Square. These incentives have funded the renovation of the Black River Valley, Empsall and Lincoln Buildings, and redevelopment of the Court Street Commons structures. It has also provided funding for the remediation and renovation of the former Convergence Building nearby that will become the new home of the Watertown Family YMCA.
"National Grid is proud to support economic development projects like these that spur business growth in the Watertown, Northern New York and across our service territory," Bianchetti said.
The streetscape project is a component of the city's Downtown Revitalization Initiative, funded primarily through a $10 million award from the state of New York. National Grid has provided more than $125 million in financial support from its economic development program since 2003 helping to create or retain more than 60,000 jobs.
About National Grid
National Grid (NYSE: NGG) is an electricity, natural gas, and clean energy delivery company serving more than 20 million people through our networks in New York and Massachusetts. National Grid is focused on building a path to a more affordable, reliable clean energy future through our
fossil-free vision
. National Grid is transforming our electricity and natural gas networks with smarter, cleaner, and more resilient energy solutions to meet the goal of reducing greenhouse gas emissions.
Media Contacts
Related News