Downstate Gas Operations ready for hurricane season
Jun 08, 2021 - 3:30 PM
Categories: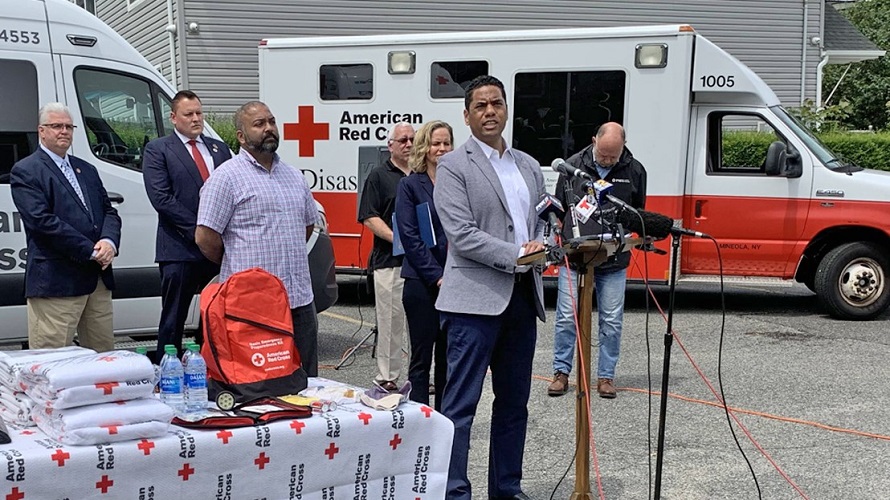 With the National Oceanic and Atmospheric Administration (NOAA) predicting another above-normal Atlantic hurricane season, Gas Operations is working with the American Red Cross to help ensure Long Islanders are prepared.
Aaron Choo, Vice President of Gas Field Operations for Downstate New York, recently spoke at a Red Cross event to provide an update on our emergency response plan and storm hardening efforts for the upcoming season. Our ongoing system improvements and enhancements will help us provide increased reliability.
"I'm confident that we are prepared for the busy upcoming hurricane season," Aaron said. "We have done the necessary work in training and drills and fine tuned our plans to provide reliable service to our customers."
Every year, our employees prepare and train for storms and emergencies. In fact, we just completed an extensive drill for a gas outage on Long Island to ensure that we have all our emergency plans in place to keep our customers safe and to provide them with reliable service in the event of a hurricane or another storm.
National Grid has also been ramping up our innovative natural gas storm hardening program on Long Island – starting in the city of Long Beach. Our storm hardening program helps mitigate risk and uses technology to strengthen the natural gas network in flood zones by installing automatic service shut-off valves near customer gas meters.
Visit the American Red Cross website for more information about how you, your families and our customers can prepare for severe weather and emergencies.
About National Grid
National Grid (NYSE: NGG) is an electricity, natural gas, and clean energy delivery company serving more than 20 million people through our networks in New York, Massachusetts, and Rhode Island. National Grid is transforming our electricity and natural gas networks with smarter, cleaner, and more resilient energy solutions to meet the goal of reducing greenhouse gas emissions. As part of our commitment to a clean energy future, National Grid is a Principal Partner for COP26, the UN global climate summit, which will be located in the UK in November 2021.
For more information, please visit our website, follow us on Twitter, watch us on YouTube, like us on Facebook, and find our photos on Instagram.
Media Contacts
Related News