NY Clean Truck Conference focuses on electric fleet conversion
Jul 27, 2022 - 12:45 PM
Categories: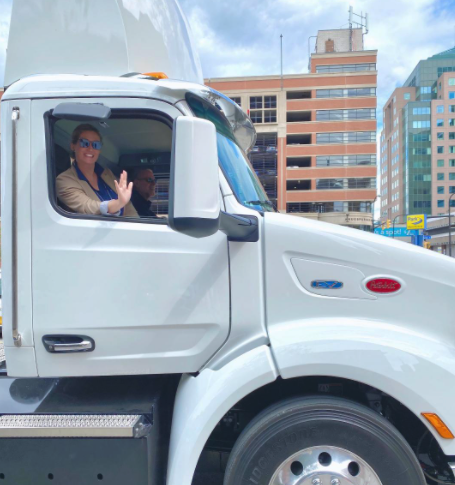 National Grid's Leslie Vishwanatah says hello from inside an electric truck, which was featured at the conference.
Leslie Vishwanath knows a thing or two about fleets of electric vehicles, and that it takes elements of education, strategy, and time to convert a traditional diesel engine fleet to electric.
As National Grid's Lead Project Manager, Electric Vehicles/Clean Fleets, she shared her knowledge as a panelist during the Clean NY Truck Conference. Held July 25-26 at the Hyatt Regency in Buffalo, the event spotlighted updates on recent state and federal policy changes, funding developments for clean transportation, and how New York truck operators may be impacted.
Vishwanath and other panelists addressed policy leaders, vendors and others, and spoke about clean transportation infrastructure. Vishwanath talked about how National Grid's fleet conversion program offers fleet assessments and incentives. When it comes to conducting a fleet assessment, she talked about how National Grid works with customers to determine overall needs, discuss charging capacity considerations, conduct rate analyses and identify incentives that can make the transition more affordable.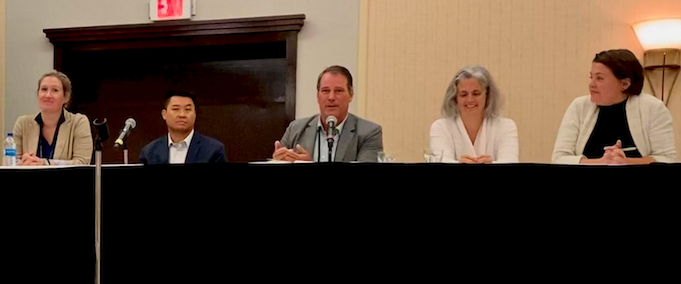 Leslie Vishwanath, at left, was a panelist at the Clean NY Truck Conference, held July 25-26 in Buffalo.
About National Grid
National Grid (NYSE: NGG) is an electricity, natural gas, and clean energy delivery company serving more than 20 million people through our networks in New York and Massachusetts. National Grid is focused on building a path to a more affordable, reliable clean energy future through our
fossil-free vision
. National Grid is transforming our electricity and natural gas networks with smarter, cleaner, and more resilient energy solutions to meet the goal of reducing greenhouse gas emissions.
Media Contacts
Related News