National Grid Deploys Innovative EV Chargers in Melrose, MA
Apr 22, 2021 - 10:00 AM
Categories: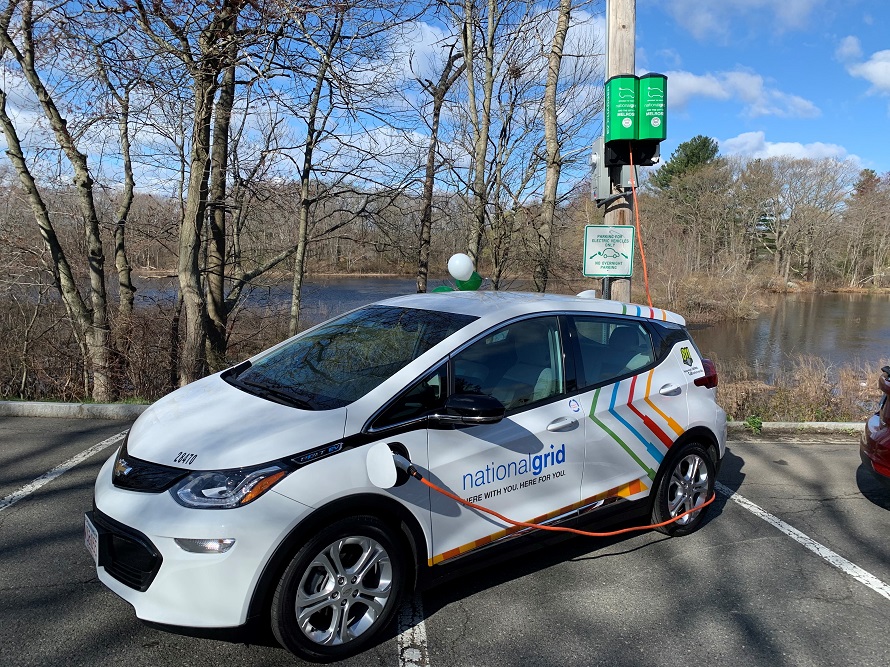 WALTHAM, MA – National Grid today announced the deployment of pole-mounted electric vehicle chargers in Melrose, unveiling an innovative, first-in-the region program intended to expand EV adoption, accelerate usage and lower installation costs.
In partnership with the City of Melrose, a total of 16 chargers will be installed by mid-summer on National Grid poles throughout the city, providing charging access to those without private garages or dedicated parking.
"As we mark Earth Day, we know the importance of transitioning to a clean energy future," said Tara Kapila, Vice President, Growth and Marketing, for National Grid. "By deploying these EV chargers on our utility poles, we are doing our part in providing equitable access to this growing technology."
The chargers, which will be owned by the City of Melrose, will leverage electricity on poles and reduce installation costs compared to ground-mounted stations by 70% by eliminating digging related construction activities. When operational, the Melrose project will represent the first deployment of elevated, pole-mounted EV chargers by an investor-owned utility in the United States.
"This year Melrose is celebrating 10 years as a Green Community," said Melrose Mayor Paul Brodeur. "This program is an important step in promoting EV adoption in our community, offsetting emissions, and moving us closer to our NetZero 2050 goal. I am incredibly thankful for the collaboration with National Grid in getting this project off the ground. I can't think of a better way to celebrate Earth Day."
The Melrose chargers, which include a mixture of single stations and dual stations, will be located at 10 sites throughout the city. A customer will use an app to lower the charger for use on their vehicle.
Melrose is the first city in Massachusetts to utilize the pole-mounted chargers and information gathered from the project will be factored into future National Grid EV partnerships with additional cities and towns.
Pole-mounted EV chargers are just one of many efforts National Grid is undertaking to accelerate electric transportation in Massachusetts.
Transportation is the single biggest cause of greenhouse gas emissions in Massachusetts at 43% and the expansion of EV's is a feasible route to help Massachusetts become net-zero by 2050.
In 2018, National Grid received approval to invest $20 million to add 680 charging stations at workplaces, public places, multi-family dwellings, and for commercial and public fleets in Massachusetts. Of the 500 charging stations already installed, 70 percent are publicly accessible while one-third of them are in underserved communities.
Advancing clean transportation is one of the 10 focus areas in National Grid's Net Zero by 2050 Plan. We are reducing demand through energy efficiency, utilizing storage, interconnecting large scale renewables and introducing technologies like hydrogen, dual-fuel heat pumps, and geothermal networks.
About National Grid
About National Grid: National Grid (NYSE: NGG) is an electricity, natural gas, and clean energy delivery company serving more than 20 million people through our networks in New York, Massachusetts, and Rhode Island. National Grid is transforming our electricity and natural gas networks with smarter, cleaner, and more resilient energy solutions to meet the goal of reducing greenhouse gas emissions.
For more information, please visit our website, follow us on Twitter, watch us on YouTube, friend us on Facebook, and find our photos on Instagram.
Media Contacts
Related News