National Grid Sponsors Trees for TDs Program
Jan 03, 2022 - 12:43 PM
Categories: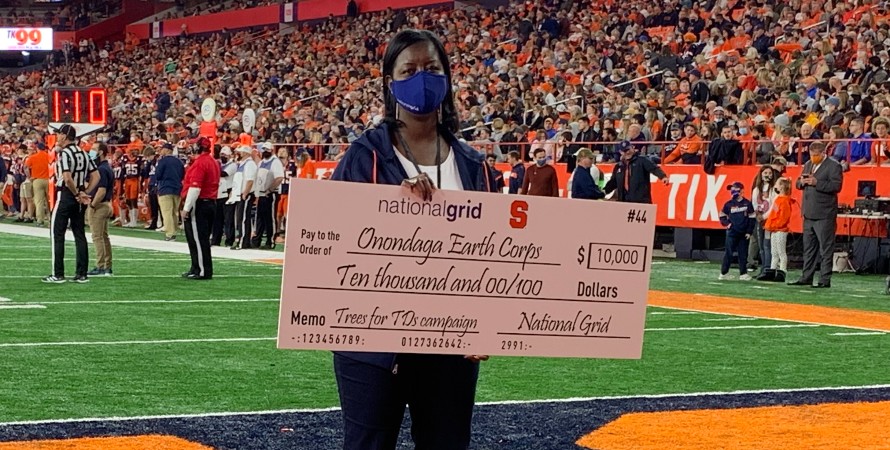 Every time the Syracuse University football team crossed the goal line this season, the local environment scored a touchdown. National Grid sponsored the Trees for TDs program, supporting tree plantings across the city.

Gwen Sanders, community coordinator for National Grid, presented a check for $10,000 to Onondaga Earth Corps during the Orange's season finale versus the University of Pittsburgh to support the organization's efforts, which include planting a tree for each of the 39 touchdowns scored by the Orange during the 2021 season.

"Tree plantings in urban communities provide important benefits to their residents," said Alberto Bianchetti, Central New York regional director for National Grid. "Trees are effective tools in removing carbon from the atmosphere, improving air quality and reducing energy usage."

Syracuse scored 28 rushing touchdowns, 10 passing touchdowns and returned one punt for a touchdown during the 2021 season. Two of the team's players were among the national leaders in scoring. Quarterback Garrett Shrader finished tied for 17th in the Football Bowl Subdivision with 14 rushing touchdowns, while running back Sean Tucker was tied for 32nd with 12 touchdowns.

The mission of the Onondaga Earth Corps is to empower youth to be active participants in creating positive change for their communities and the environment. National Grid's contribution will support tree plantings in urban communities, which is an important contributor to quality of life for those living in city neighborhoods. Trees provide shade to buildings, reducing air conditioning and energy usage during warm-weather months. By removing small particulates and carbon dioxide from the air, trees improve air quality and reduces air pollution. Further, trees feed on carbon. They absorb carbon dioxide through their leaves and use it for nourishment, while releasing oxygen to the atmosphere.

"Trees for TDs touches all four focus areas of our Project C community commitment initiative," Bianchetti said. "Trees sustainably reduce carbon and energy use, and urban plantings address environment justice and social equity. This project supports our neighborhoods and communities by decreasing air pollution, and our partners at Onondaga Earth Corps are promoting workforce development by introducing school-aged children to importance of environmental sciences."
About National Grid
About National Grid: National Grid (NYSE: NGG) is an electricity, natural gas, and clean energy delivery company serving more than 20 million people through our networks in New York, Massachusetts, and Rhode Island. National Grid is transforming our electricity and natural gas networks with smarter, cleaner, and more resilient energy solutions to meet the goal of reducing greenhouse gas emissions.
For more information, please visit our website, follow us on Twitter, watch us on YouTube, friend us on Facebook, and find our photos on Instagram.
Media Contacts
Related News